Learn how to make an easy and inexpensive Hula Hoop Chandelier. All you need is a hula hoop and a strand of Christmas lights.
When I would come home at night, it was too dark to see where I was stepping. Also, I had trouble finding my keys to unlock the back door. The back porch needed a light.
Of course, I didn't want to spend money on hiring an electrician. Also, I was afraid I would end up breaking a leg tripping over toys and shoes. So, I went to every Home Improvement store looking for a light to install.
Also, I even thought about hanging solar lights near the back door, but that area has a lot of shade. I remembered something I had seen on Pinterest a couple of months ago.
It didn't have a tutorial, and I couldn't remember where I saw it. So I came up with this chandelier light.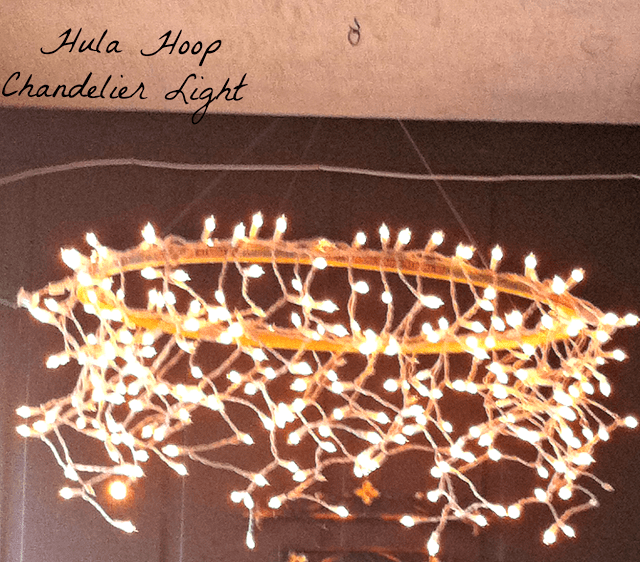 This is my Hula Hoop Chandelier Light, it cost me less than ten dollars to make. I love it!!
What you need to make a Hula hoop Chandelier Light 
Hula Hoop
Hook to hang it up
Fishing Line
Christmas icicle lights (1 strand)
* Optional * automatic timer for lights with remote
Scissors
How to make A Hula Hoop Light 
Unfortunately, I forgot to take pictures, but the chandelier was easier than I thought it would be to make.
First, place the hula hoop on a flat surface (table ) and weave the lights over and under, while you weave your lights tie the lights to the hula hoop with the fishing line.
Next, pre-cut the fishing line into 8-inch pieces. I trimmed each piece after I finished cutting them. Also, I cut the fishing line into three 36-inch pieces to hang the chandelier. You'll want to place the plug where you can get to it.
 Additionally, I used an extension cord to plug my Hula Hoop Chandelier light into the outlet. Also, I use an automatic timer to turn it off, with a remote control keychain. You can purchase the remote control keychain at Lowe's.
Also, you can spray paint the hula hoop and use ribbon to hang it. I chose the fishing line because I was hanging it up outside and wanted it to last longer due to the weather.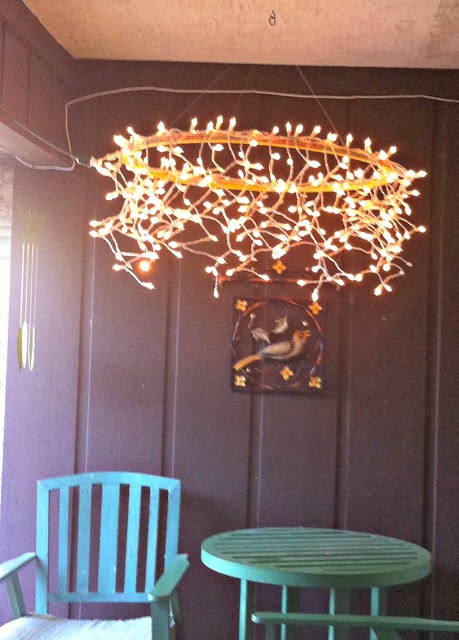 What do you think ? It really looks pretty at night time .