Learn how to make this fun Halloween Party Ghost Game that is easy to make and a fun DIY game that will keep kids entertain for hours at Halloween parties.
If you're having a Halloween party or just looking for a fun game for your little ones to play this hungry ghost would be perfect!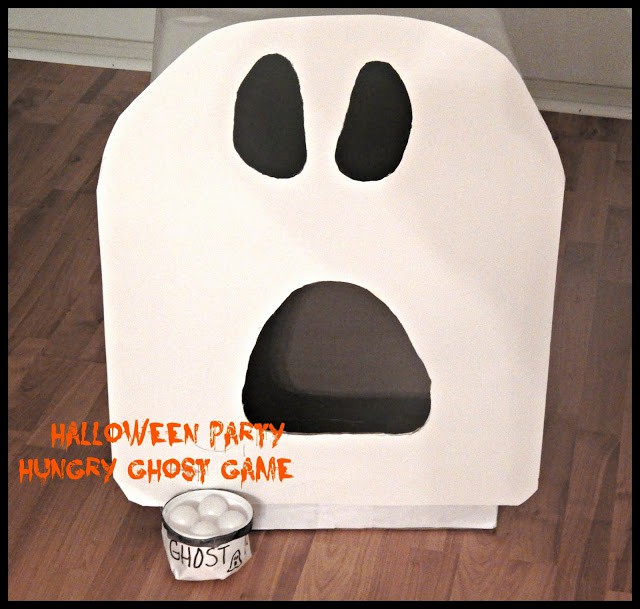 I decided to make this game for my little boy because his new favorite thing is pretending to be a  ghost . He loves putting sheets over his head and running around the house screaming and chasing me and his daddy!
This game was simple to make and budget -friendly too. Kids will have so much fun trying to get the balls into the ghosts mouth.
The ghost game is not only fun to play but, a great way to teach kids about recycling. The hungry ghost can be made out of any medium or large size box you have lying around the house. 
Supplies For The Halloween Party Ghost Game
Ping- Pong Balls & Container
White Poster Board
White Paper or  White Paint
Black Paint
Glue
Box
Box Cutter
How to make the Party Ghost Game 
Tape your box close and spray paint the box white or cover it with white paper.
Cut the poster board into the shape you want your ghost and draw or paint the eyes on the ghost.
Glue the poster board ghost onto the box then cut out a mouth.
Put the ping- pong balls in a container. I wrote Ghost Food on our container for the Ping-Pong balls.
That's it! Wasn't that easy? Now you have a fun Halloween game that will keep kids entertain for hours!