The Easy to Make Charlie Brown Theme Snacks is a sponsored conversation written by me on behalf of Albertsons-Safeway. The opinions and text are all mine.
Every year during October and November my family partakes in several Family traditions. In October, we visit our favorite Pumpkin Patch, and we look forward to watching "The Great Pumpkin Charlie Brown" on television.
We also take my little boy trick or treating. In November, we always watch "A Charlie Brown Thanksgiving". I guess you can say, my family loves traditions as much as we love Charlie Brown.
You could imagine our excitement when we found out a new Peanuts Movie will be coming out in theaters November 6th, 2015. Inspired by our beloved Charlie Brown and his Canine companion Snoopy here are two (2) easy to make snacks that I made for my family. I am sure you will want to make them.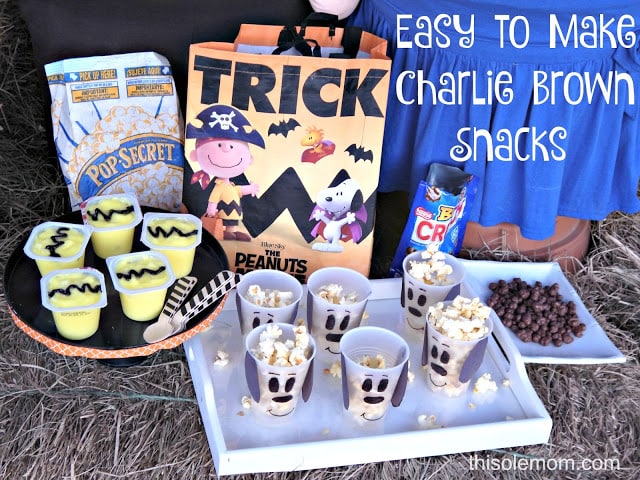 Before I made my snacks, I went to my local Albertsons-Safeway to pick up the items I needed.
Did you know Albertsons-Safeway is the official grocery partner of  "The Peanuts Movie"?
 Right now while supplies last you can go to your local Albertsons-Safeway store and purchase three items from the participating brands below like I did and received a free reusable trick-or-treat bag.
The reusable bags are super cute, and you can choose between two different bags.
Participating brands include:
Horizon Organics
Coke (Honest and Pure Leaf)
Nestle
Johnsonville
Ziploc
Johnson & Johnson
All
Tyson
Pop Secret
Snack Pak (ConAgra)
DPSG
Schwan's (Red Barons)
Rich Products (sugar cookies and cakes in the deli)
ACH Foods/Spice Islands
Bertolli/Ragu
Kellogg's
The first snack I made was inspired by Charlie Brown's shirt. I bought two 4- packs of Lemon Snack Pack gluten-free pudding. I just opened up each container of pudding and made a zig-zag line on each with black writing gel. This snack was easy and fun to make.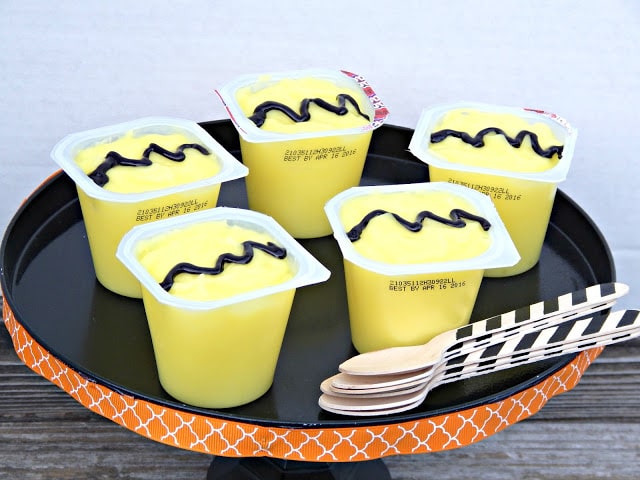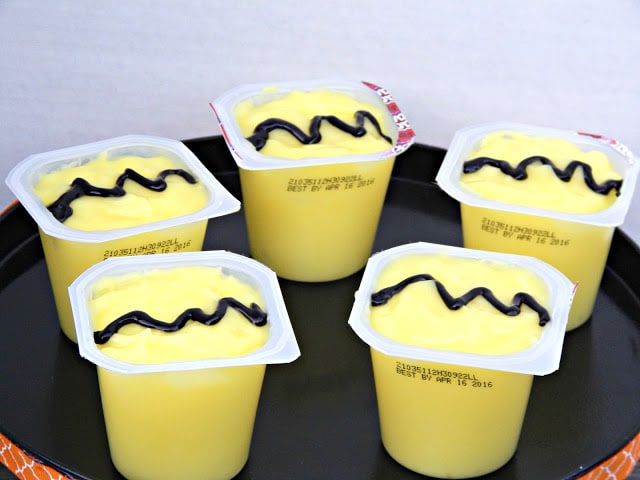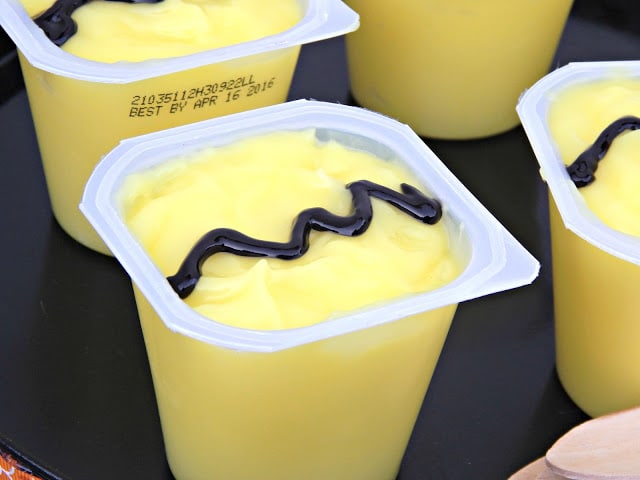 The second snack I made was Snoopy popcorn treat cups, inspired by Charlie Brown's Canine companion Snoopy.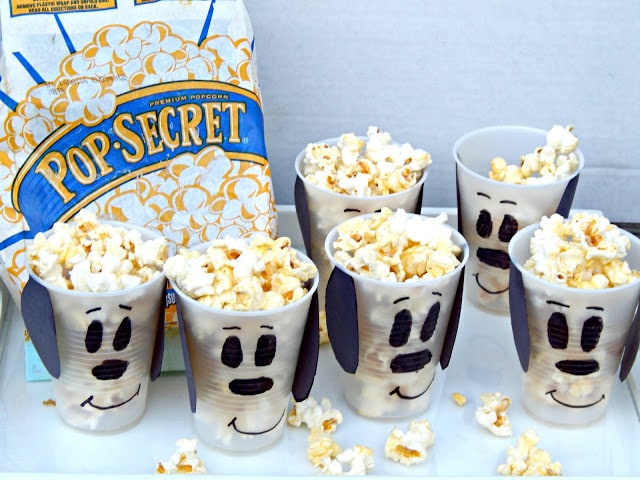 I made 6 Snoopy snack cups and filled each with "Pop Secret Popcorn". You could get the kids to help you make these cute treats.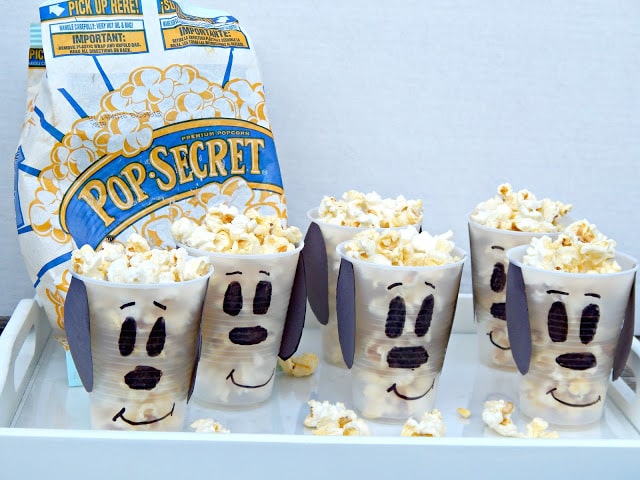 I used six 9 fl oz. Plastic cups, two sheets of black construction paper, stick glue and a felt tip marker.
I drew Snoopy's face on each cup with a felt tip marker then I cut ears out of the black construction paper after I cut the ears out I glued a set of ears onto each cup.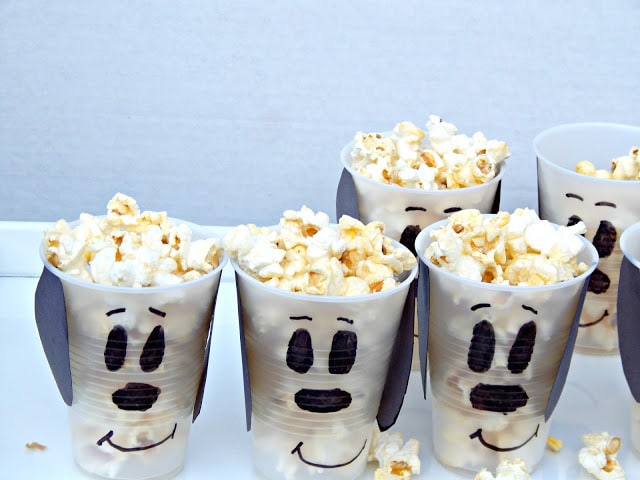 After I made the Charlie Brown inspired snacks my family packed them up in our vehicle and brought them with us to enjoy at the pumpkin patch.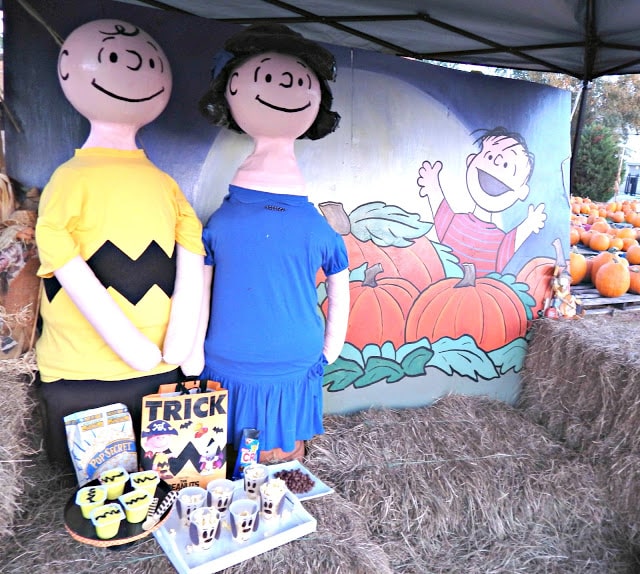 We were surprised to find out that this year the theme at the pumpkin patch is Charlie Brown!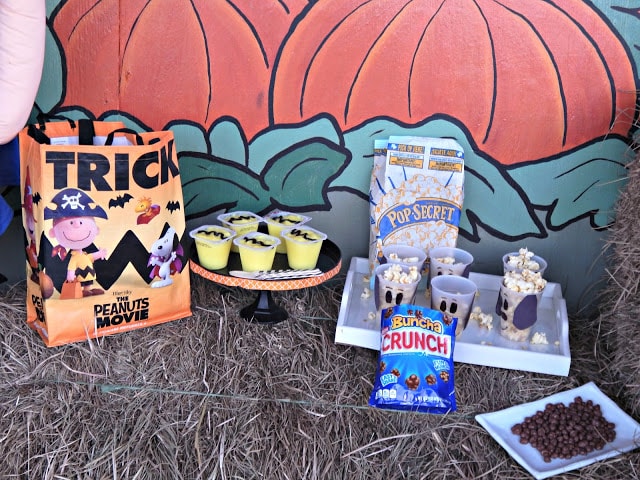 Do you plan on going to see "The Peanuts Movie" on Friday, November 6th, 2015? I can't wait to see it.
This is a sponsored conversation written by me on behalf of Albertsons-Safeway. The opinions and text are all mine.