I was so eager to get this dessert in the oven and cooked that I forgot to take pictures showing the different steps on how to prepare it. Luckily I stopped myself from eating the Chocolate Gooey Goodness once it was out the oven, long enough to snap a few pictures.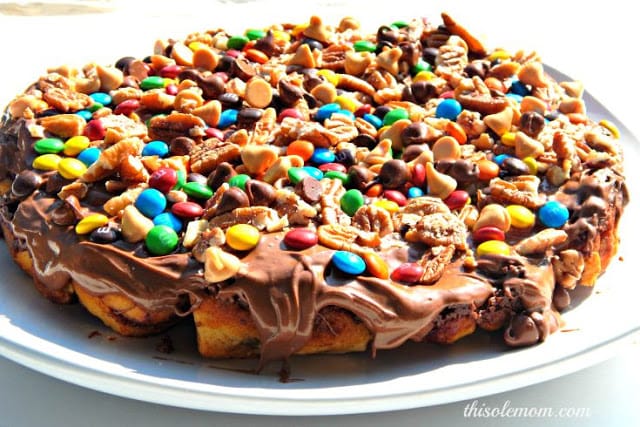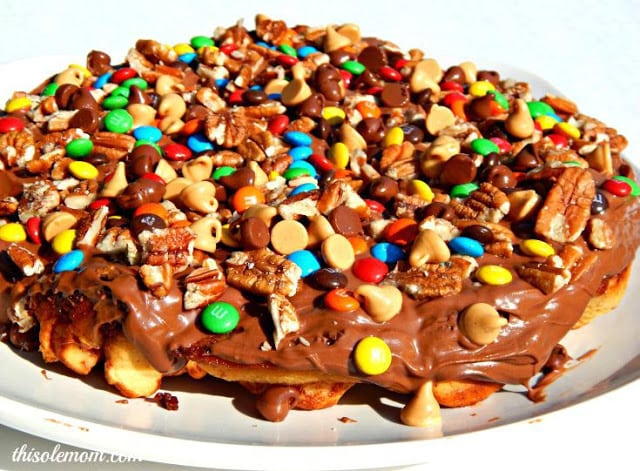 This Chocolate Gooey Goodness Pull Apart Dessert using Pillsbury Grands Cinnabon Cinnamon Rolls is not only delicious but easy to make. It's so delicious you will be licking the plate clean. You may want to make more than one pan of this mouthwatering treat.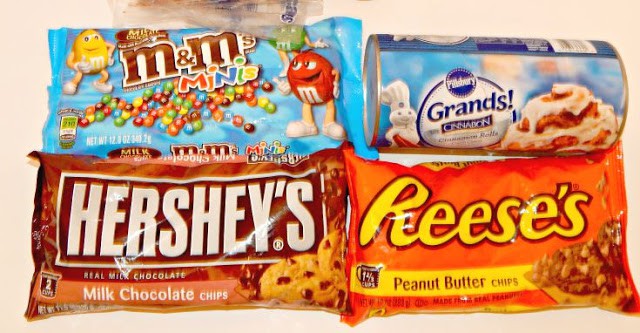 What you'll need to make your own Chocolate Gooey Goodness Pull Apart Dessert:
1 cup milk chocolate chips
1 cup Reese's Peanut Butter chips
1/2 cup mini M&M's
1 can (17.5) Pillsbury Grands! Cinnabon Cinnamon Rolls without icing
3/4 cup  chopped pecans
2 tsp. Crisco Vegetable Shortening (from baking stick)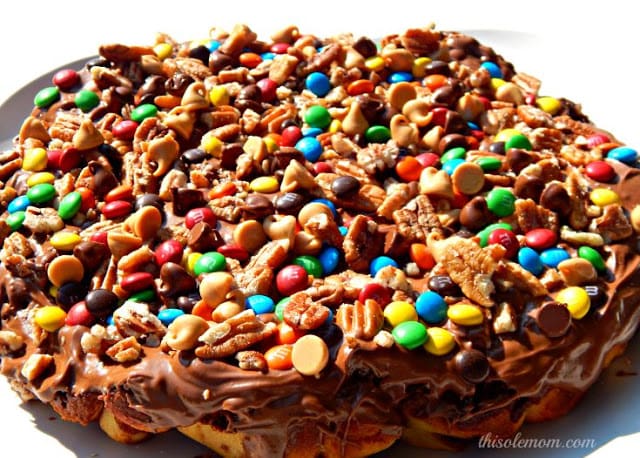 Instructions:
1. Preheat oven to 350 degrees. Spray 9-inch round can pan with cooking spray.
2. Separate dough into 5 rolls, cut each into 4 pieces then place into pan. 3. Bake 23-28 minutes or until golden brown. 4. In a medium size microwavable bowl , microwave 1/2 cup milk chocolate chips and 1/2 cup Reeses's Peanut Butter chips uncovered on high 30 to 60 seconds then stir in the shortening continue to cook 10 seconds, stir until smooth. 5. Place a heatproof serving plate over the pan, wearing oven mitts turn plate and pan over. 6. Pour and spread the melted chocolate and peanut butter chips over the cinnamon rolls. 7. Immediately sprinkle with pecans, M&M's, and remaining milk chocolate chips and Reese's Peanut Butter Chips. Let cool 5 minutes. Serve warm.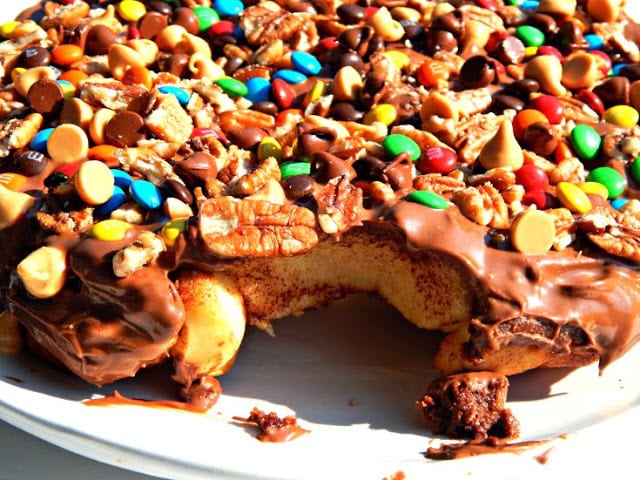 Warning: This dessert is extremely messy! You may want to break out the wet wipes.

When you eat your first bite of this Chocolate treat you may want to be alone in a secret hiding place, so your kids don't see you devouring the entire dessert. But if you decide to share this Chocolate Gooey Goodness you may get extra hugs and kisses from your little ones afterward.
Do you have a favorite dessert you make using Pillsbury Cinnamon Rolls?