Disclaimer: I received products for free from the sponsor of the Moms Meet program, May Media Group LLC, who received it directly from the manufacturer. I agreed to use the Xlear Care Kit and give my honest opinion. My opinions may not necessarily reflect the opinions of May Media Group LLC or the manufacturer of this product.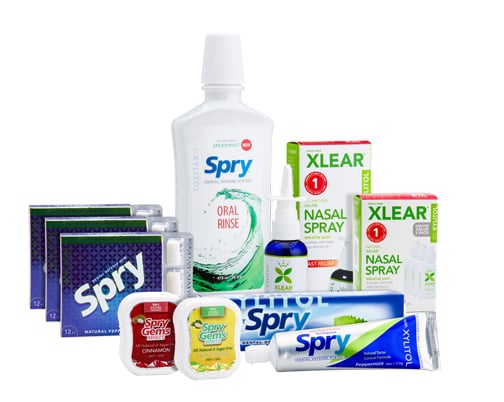 What is Xylitol:
Xylitol is a sweet, crystalline carbohydrate that occurs naturally in virtually all fruits and vegetables. Our bodies even produce small amounts of it each day. Xylitol's powerful oral and upper respiratory health benefits come from its unique five-carbon structure.
Just the Facts: (From Xlear the Xylitol Experts)
 Xlear Nasal Spray –  Xlear is a soothing nasal spray that helps to alleviate congestion due to allergies, cold, flu, and sinusitis. It does this by being much more hyperosmotic than a traditional saline nasal spray and also by incorporating xylitol, a natural product that has been shown to decrease bacterial adherence in the nose. When used twice a day, Xlear nasal spray not only hydrates the sinuses and nasal passages but it also helps to wash away airborne contaminants and pollutants that lead to many common upper respiratory problems. Unlike many prescription or medicated sprays with unwanted side effects, daily usage of Xlear Nasal Spray is non-addictive and will not damage tissues.
 One 1.5 oz. container of Xlear Nasal Spray retails for $14.99 and will last 2-3 months with daily use. The Xlear Nasal Spray Economy Pack contains three .75 oz. squeeze bottles and retails for $18.99.
Spry Toothpaste Non-Fluoride –  The use of Spry Toothpaste can significantly improve oral health when combined with proper oral hygiene and regular dental care. Spry Toothpaste consists of 1/3 xylitol, which provides 20-25% of the recommended dosage per day. Xylitol also increases mineral absorption into the enamel of the teeth, resulting in greater protection with a clean, fresh feeling that really lasts. Spry Toothpaste retails for $5.99 each.
Spry Oral Rinse – takes a more natural approach to oral health by using a xylitol-rich, low-alcohol, and pH-neutral formula. It also uses a mix of natural flavorings and herbal extracts such as aloe vera, chamomile, and echinacea to help soothe irritated mouth tissues. Spry Oral Rinse is available in Cool Mint, Spearmint, Wintergreen, and Cinnamon flavors. Spry Oral Rinse retails for $6.99 each.
Spry Gum  –  has a flavor profile that exceeds regular chewing gum with the added benefit of xylitol. Spry Gum is available in four natural flavors: Spearmint, Wintergreen, Cinnamon, and Peppermint. • 12 pieces of Spry Gum retails for $2.29.
Spry Gems   – are naturally sweetened with 100% xylitol. Spry Gems combine the benefits of xylitol with natural flavorings and calcium to create a pH balanced formula for advanced oral health. Spry Gems are available in Berry, Cinnamon, Peppermint, Spearmint, and Lemon Cream varieties. 40 count Spry Gems retail for $2.19.
My Review:
I love being part of Moms Meet and trying new products and learning about new brands, especially products that claim to be beneficial for my family. My 5-year-old son wanted to help me with this review. I made sure that Xylitol was safe for children to use before allowing my son to try any of the Xylitol products. Children under the age of  2 should not use these products.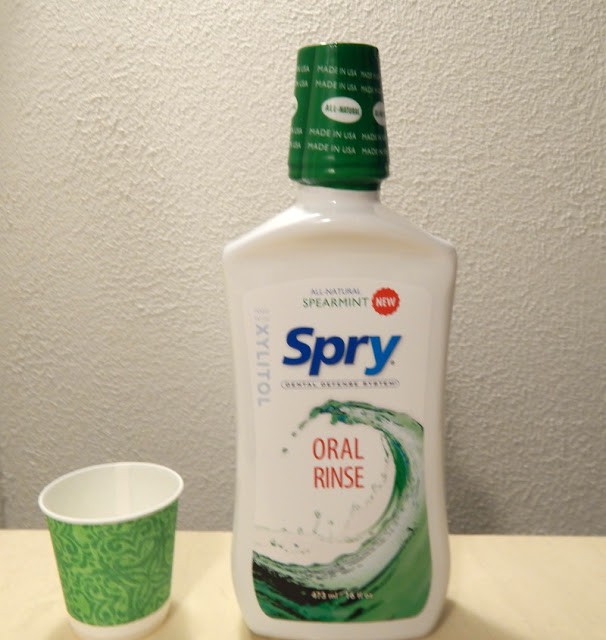 Spry Oral Rinse – I poured a half – capful of the oral rinse into a small cup for my son and myself. We each gurgled for 60 seconds (not intended to be swallowed)  It's recommended to use the oral rinse in the  morning and at bedtime after brushing your teeth.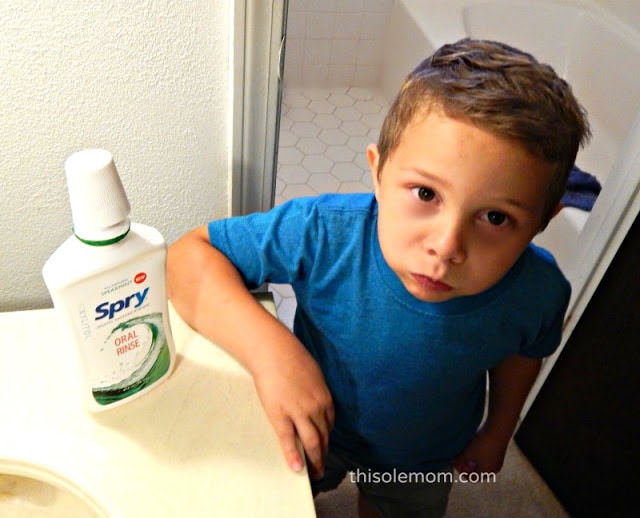 The first thing my son said about the oral rinse was his mouth felt minty-fresh. My thoughts were my breath smelled minty, and I didn't notice a burning sensation like I have experienced using other mouthwashes. My teeth did feel clean and I didn't notice a bad after taste. My son and I both liked the Spry oral rinse and will continue to use it. I like that the oral rinse doesn't use artificial sweeteners and is sweetened only with all-natural xylitol.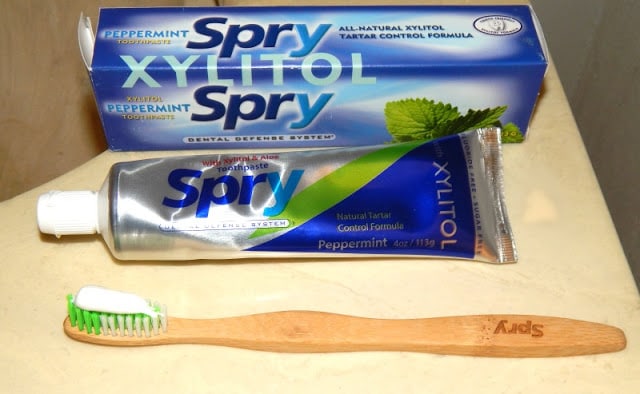 Spry Xylitol Non-Flouride Toothpaste – According to the package xylitol toothpaste is recommended by Dentist and Hygienists. Xylitol is a sweetener that, unlike other sugars, does not promote the development of tooth decay. In fact, it may reduce the risk of dental cares. I was curious to see if my son would like this toothpaste because I have been searching for awhile for a toothpaste that didn't contain fluoride. I was surprised that my son actually liked the toothpaste and the taste of it. I noticed the toothpaste was a little bit on the thick side and you don't need to use a lot of it. The toothpaste was very minty and left my mouth feeling fresh for a while. The box stated the toothpaste was safe to swallow, I wouldn't recommend letting your children consume large amounts of the toothpaste.
Spry Earth-Friendly Bamboo Toothbrush  – This by far is my favorite product in the kit. The bamboo handle is biodegradable, Organic, Nontoxic, and BPA free! I love that the handle feels light to use and it's biodegradable. I feel good about using the Spry bamboo toothbrush instead of  the plastic ones I have been using that will only end up in the landfills.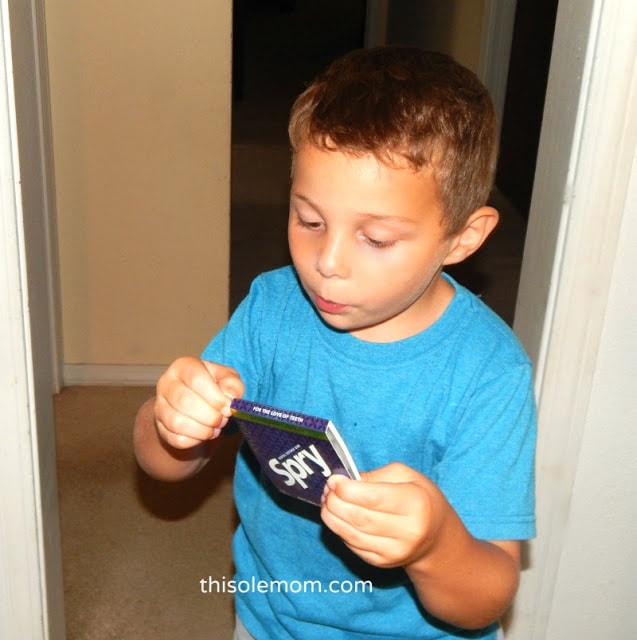 Spry Dental Defense Gum – I was sent two packs of the Spry Natural Peppermint. I love that the Gum  is Non -GMO, Gluten Free and contains no artificial sweeteners. My son and I both like the taste. We also, like that the gum isn't strong but leaves a subtle hint of the peppermint behind for your mouth to smell fresh. Clinical studies have shown that the use of tooth-friendly xylitol on a daily basis throughout the day, may reduce the risk of tooth decay and improve your overall oral health.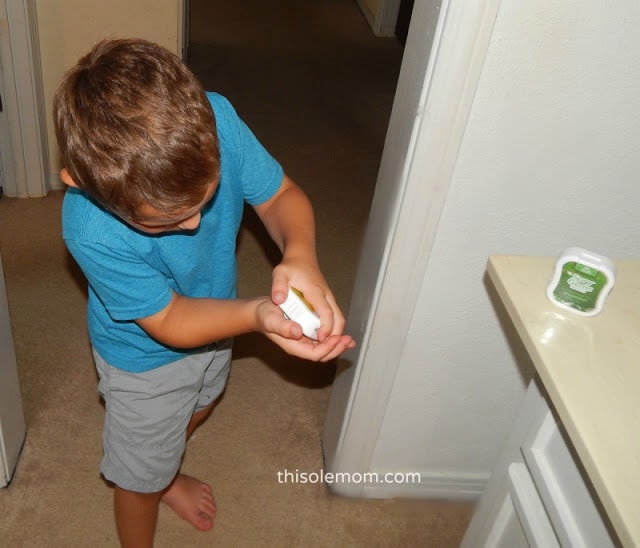 Spry Gem Mints – Made with 100% Xylitol sweetener. We were sent two containers of Spry Gems. A container of the Natural & Sugarfree  Spearmint which was my favorite. I like the way it made my mouth smell and it didn't have an aftertaste, My son's favorite was the All Natural & Sugarfree Lemon Creme Spry Gem Mints. He thought they tasted delicious and wanted to eat them like candy. I didn't care for the taste of the Lemon Creme Mints.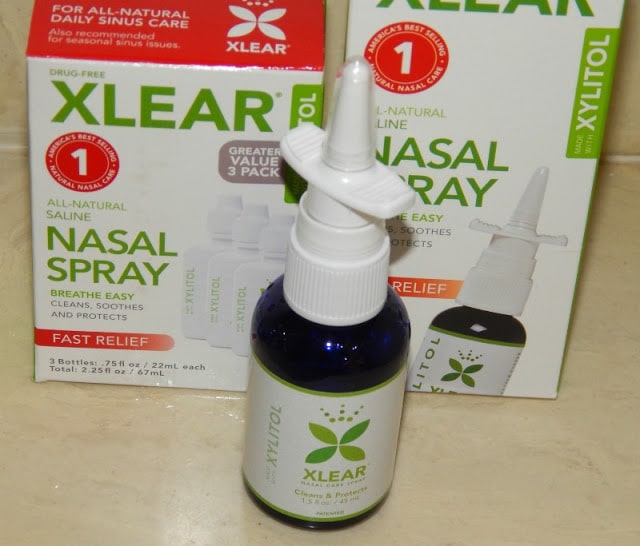 XLEAR Nasal Spray  – I actually have been using this product for a few years. Xlear is safe for infants and all children, there is also a Children's Xlear available. My son does not use this product and he didn't want to try it. He isn't a fan of spraying things up his nose. Xlear is drug-free. Xlear is recommended for All-Natural Sinus care and seasonal issues. I use the spray mist when my nose dries out during the winter months and for Seasonal Allergies. I find Xlear is soothing and helps make my nose feel better. Xlear is also great for cleansing, moisturizing and protecting the delicate sinus tissues. Even though Xlear is safe for infants it's effective for adults too! Like any product, results may differ from one person to the next. According to the Xlear nasal spray package, it's recommended by doctors and safe to use daily.
According to Xlear and Spry the benefits of Xylitol are:
The addition of xylitol to saline nasal sprays, neti pots, and positive pressure bottles has been shown to make them more effective at helping to prevent ear infections in children, sinus infections in adults, and asthma and allergies in people of all ages. Xylitol helps the body's natural cleansing process to clear away allergens, asthmatic triggers, and other harmful bacteria. Xylitol is also one of the newest, easiest and tastiest ways that people can improve oral health. Research done in widely different conditions confirms that xylitol use may reduce tooth decay.
Pros and Cons of XYLITOL/ Xlear Care Kit Review:
Pros – All Natural made with 100% Xylitol. Safe for infants, children, and adults.
Cons – Extremely toxic to dogs. And, Xylitol may cause diarrhea or bloat if consumed in large dosages. My son and I haven't experienced any bloat or diarrhea when using this product.
I love my Xlear Care Kit, but I recommend that you try it yourself. Results and side effects may vary from person to person. You can get the
Xlear Care Kit (valued at $65) for only $25
by using the
code SAVE50.
Visit xlear.com
here
to order. Offer expires 6/30/2015. Coupon code must be enter at checkout to be valid.
This review is strictly based on my opinion. Others may have a different opinion or experience with the products listed. See my disclosure 
here
. #momsmeet
Thank you for visiting,
Kim
I love comments or email me at kseghers@rocketmail.com
Kim Seghers is a Mom of three, creator of This Ole Mom blog, a family friendly site. Kim is passionate about sharing her love for cooking, crafting, traveling, family, and everything lifestyle.