I enjoy surprising my little boy when he gets home from school, with delicious treats that I make. I like simple recipes that don't involve a lot of prep work, and that's not time-consuming. I guess that's one of the reasons I love  Rice Krispies Treats. My son loves when I make these delicious and easy to make treats. I thought I would share the recipe for my little boy's favorite Rice Krispies Valentine's Day Treats with all of you!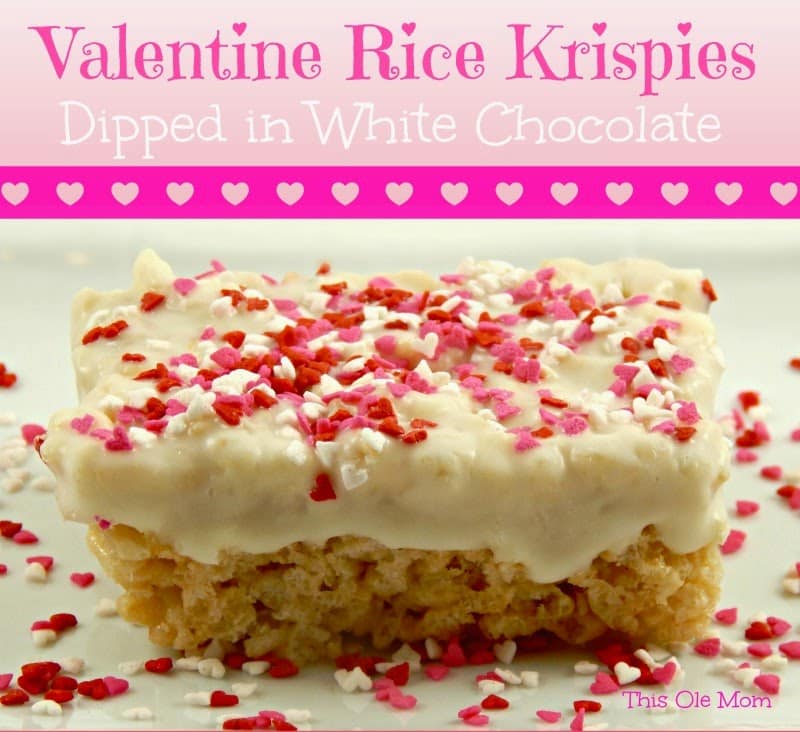 6 cups Kellogg's Rice Krispies cereal
4 cups Miniature Marshmallows
3 tablespoons butter
1 bag (12oz.) Nestle Toll House White Chocolate Morsels
2 tablespoons Crisco All-Vegetable Shortening
Valentine Sprinkles
How to make the delicious Rice Krispies.
In a large saucepan, melt butter over low heat. Stir in the marshmallows and stir until completely melted. Remove the saucepan from the heat. Add the Rice Krispies cereal, stirring until completely coated. Spray a spatula with cooking spray and press mixture evenly into a 13×9 glass dish coated with cooking spray. Place in the refrigerator for minutes to cool. Kim's note- you can follow the recipe on the box of Kellogg's Rice Krispies cereal
How to Melt the White Chocolate for the Rice Krispies Treats.
Remove the Rice Krispies from the refrigerator and cut into squares. Line a cookie sheet with wax paper. In a medium saucepan, melt the white chocolate and the shortening on low heat. Stir the chocolate and shortening until completely melted. Remove the saucepan from the heat. Dip one side of the Rice Krispies Treats into the White Chocolate then place the treat onto the pan lined with wax paper, chocolate side up. Sprinkle each treat with the candy sprinkles as you placing them on the wax paper. Keep the Rice Krispies Treats in an air tight container until your ready to serve them. Enjoy!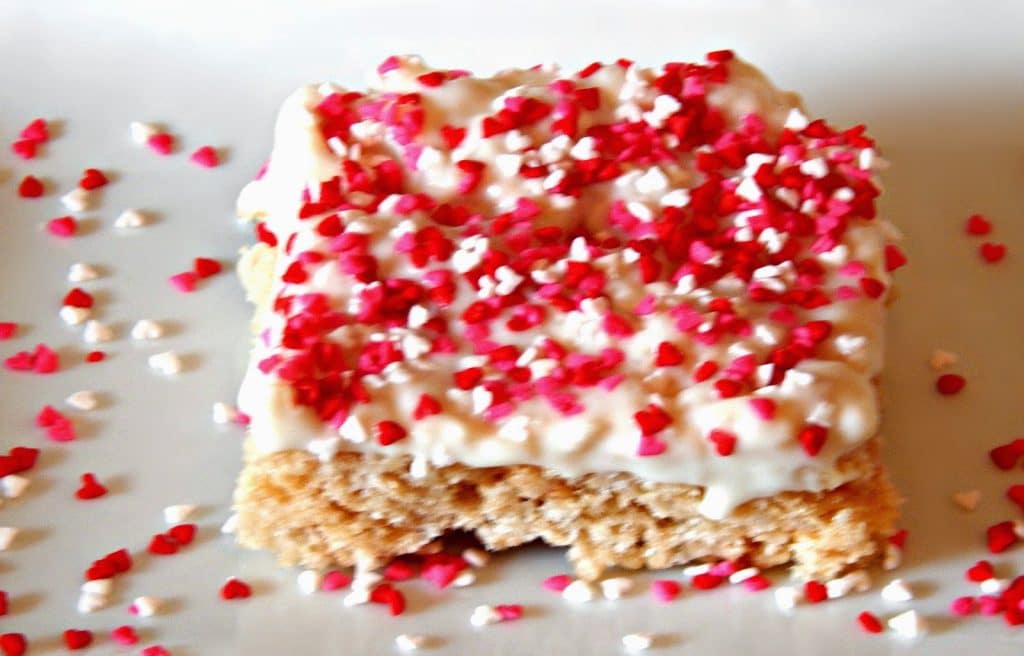 You could individually wrap each Rice Krispies square and tie with a ribbon to give as gifts.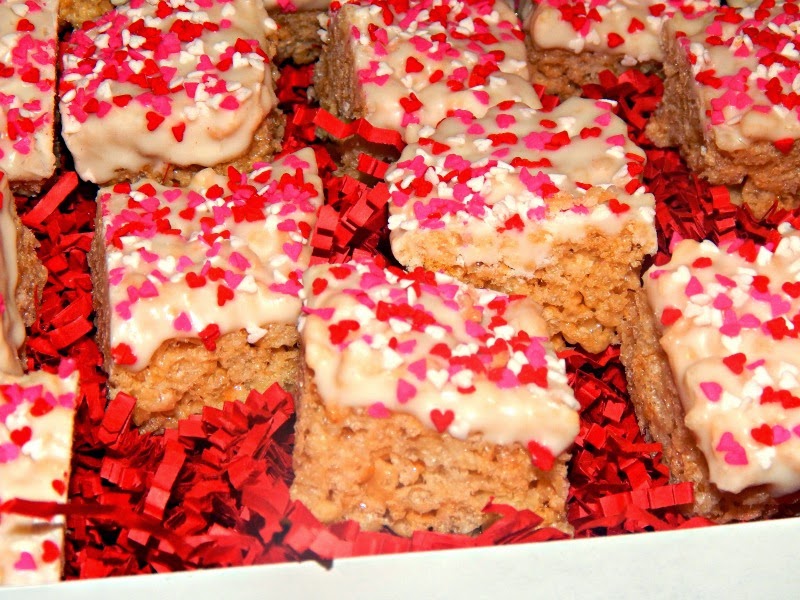 I decided to place the White Chocolate Dipped Valentine Rice Krispies Treats into a box filled with red shredded paper. I thought the Rice Krispies would make a nice gift for my son to share with his classmates.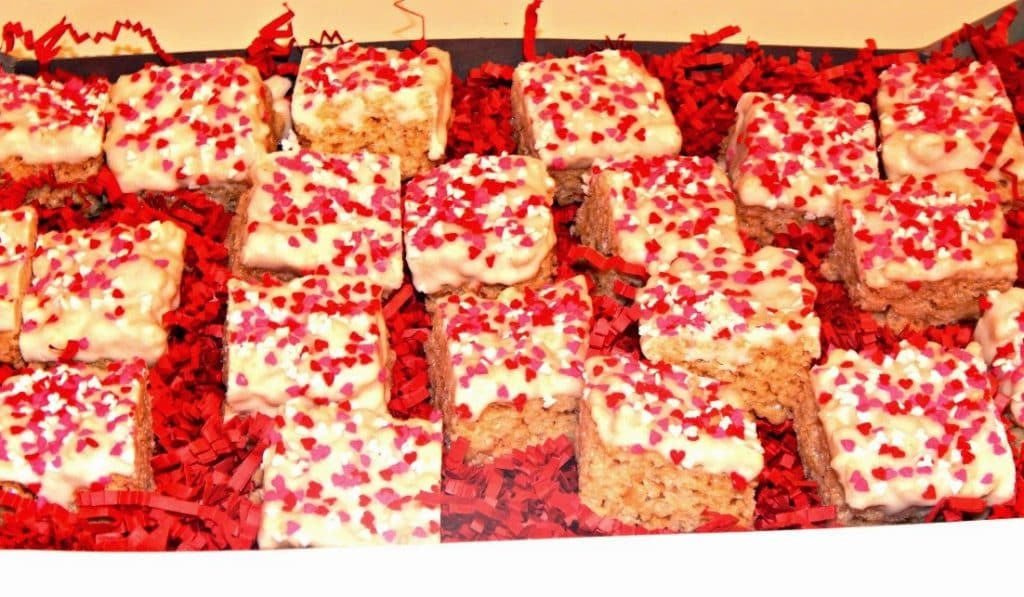 Make somebody's Valentine by making them their very own box of these delicious treats.
Bonus: Here's some Free Valentine Printables I found on Pinterest.
50 Cute Free Valentine Printables
here
 via Living Locurto.
10 Valentine's Day Gift Tags
here
via The Yummy Life.
Hand Lettered Chalk Art Valentine's Day Labels
here
via WorldLabel.
Do you like Rice Krispies Treats?
I would love to hear from you. Leave a comment or email me kseghers@rocketmail.com .
Have a Happy Valentine's Day! 
Kim