I was sent the item mentioned below at no cost to facilitate this post. All opinions are solely my own.
I was contacted by an online company called Posterjack that creates custom photo art, inviting me to create a piece of art from one of my photos to review. After, looking over their site and seeing how easy it would be to upload my photo I was excited to get the process started and I had the perfect picture in mind!
If your a procrastinator like me and have a billion pictures you keep telling yourself that tomorrow will be the day you upload and print your pictures from your computer , then I think you'll love Posterjack. It helps you get the pictures off your computer onto your wall in three easy steps just select the product, choose the size and upload. It's so easy. I love that you don't need to read pages of instructions to order your print. Most of my pictures stay on my computer but, sometimes there's a special picture that I would love to have hanging on my wall. The picture of my little boy at the beach making a "Sand Angel" in the sand is very special to me. I knew when I was invited to try Posterjack that this would be the picture I wanted to have printed.
Posterjack
offers several different sizes , styles and types of frames and prints. You can choose Poster Prints, Canvas Prints, Specialty Prints, Wood Prints, Metal Prints just to name a few. I decided to order a
metal print
. When I received the print I was pleased with the way it looked . I loved the way the colors shimmered and captured my eye. The metal had a sheen to it giving the bold colors in the picture a beautiful affect. I loved the way the metal print looked with my son's black furniture. The photo can be hung indoors or outdoors. I was surprised that the metal print wasn't heavy and it was easy to hang up. I was able to choose from  three different hanging systems. I chose the Float Mount system because I thought it would the easiest to hang.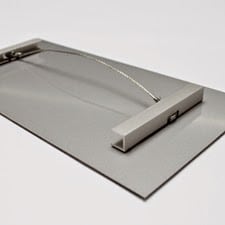 If you can't find the perfect picture from your own collection Posterjack  has an 
art shop
that you can chose from over 1 million photos to create art work. I 'm really happy with the way the metal print looks hanging in my little boys bedroom and my son loves his picture, too. I think you'll love having  your own artwork that you can create from
Posterjack
hanging up in your home or office. It's simple to create, easy to order and it's delivered to your front door!
Go to
Posterjack
to place an order online. There's only 133 days left until Christmas. Get an early start now on your Christmas shopping by ordering one of a kind gifts from your special pictures for your family and friends.
Do you have a special picture that you would like to have hanging on your wall?
This is a sponsored post and all opinions are my own. I only recommend products that I would use myself or that would be a good fit with my readers. See my disclosure
here
. #Posterjack
Hugs,
Kim