It's Back to School time, again and I thought I would surprise my little boy with some delicious homemade Soft and Chewy – Extra Peanut Butter White & Milk Chocolate Chip Cookies when he comes home from school today. If you like Peanut Butter, you'll love these soft and chewy cookies. These beautiful sweet tasting cookies are made using Skippy Creamy Peanut Butter, M&M Peanut Butter Candies, and White & Chocolate Chips. I'm hoping I don't eat all the cookies before my son gets home!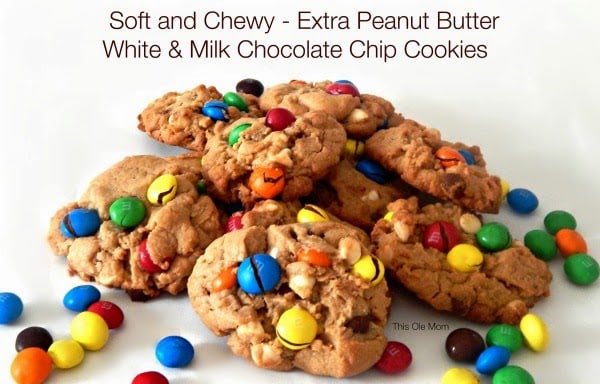 Of Course, I had to use lots of candy for my cookies. I wanted to make sure we tasted Peanut Butter and Chocolate in every bite. I love the way these cookies turned out. I think my little boy will love the cookies! Do you love making homemade Cookies? Here's how to make them.
Ingredients:

1/2 cup (1 stick) unsalted butter, softened to room temperature
1/2 cup light brown sugar
1/4 cup sugar
1 large egg
1 and 1/4 cups all purpose flour
1/4 tsp. salt
3/4 cup creamy peanut butter
1 tsp. vanilla extract
1/2 tsp. baking soda
1/2 cup Peanut Butter M&Ms
1/2 cup white chips
1/2 cup milk chocolate  chips
Directions:
In a large bowl, using a mixer cream together the sugars and butter on medium speed. Mix in the peanut butter, vanilla and egg. Slowly mix in the baking soda, salt and flour. Do not over mix the ingredients. Next, using a spoon fold in the M&Ms , and the white & chocolate chips. Place in the refrigerator to chill for 30 minutes or overnight.
Preheat oven to 350 degrees . Using a tablespoon drop chilled dough onto an ungreased cookie sheet. Press a few M&Ms on top of dough. Press the dough down only slightly. Bake 9 -10 minutes. If using stoneware (pampered chef) cook 12-14 minutes. Cookies will firm up as they cool. Using a spatula place cookies onto  a wire rack to finish cooling completely!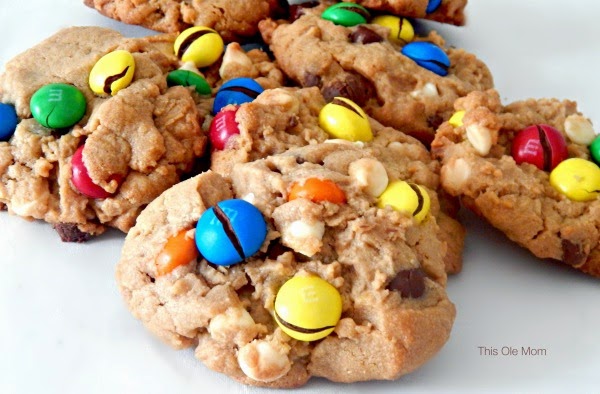 I hope you enjoy making and eating these delicious cookies! Surprise someone today by baking these delicious cookies for them or bake them for party!
Surprise your kids with fresh baked peanut butter oatmeal cookies! Slip the cookies made using Skippy creamy peanut butter into your child's lunchbox with a note from mom or dad.
A few facts about Skippy Creamy:
Skippy creamy is made from the freshest peanuts and it has 772 peanuts in every 16.3oz. jar.
Hormel Foods Extended Family Blogger .This post was written as part of my participation with the group. I was sent Skippy Peanut Butter in my August box to help facilitate this post. All opinions are my own and honest.