Lately, I've been trying to add more fruit and vegetables to my family's diet. According to research including fruit and vegetables in your diet helps reduce heart diseases, strokes, diabetes and some forms of cancer. I know it's important while my little boy is still young to teach him good eating habits and to enjoy healthier desserts and treats . So, I've been experimenting with different fruits and vegetables to see which ones he enjoys eating the most. I have discovered if I offer him a healthy dessert  after dinner he'll usually eat the vegetables on his plate. Here's a recipe for one of my son's favorite fruit desserts. It's healthy, refreshing, and delicious! I know you'll want to try it.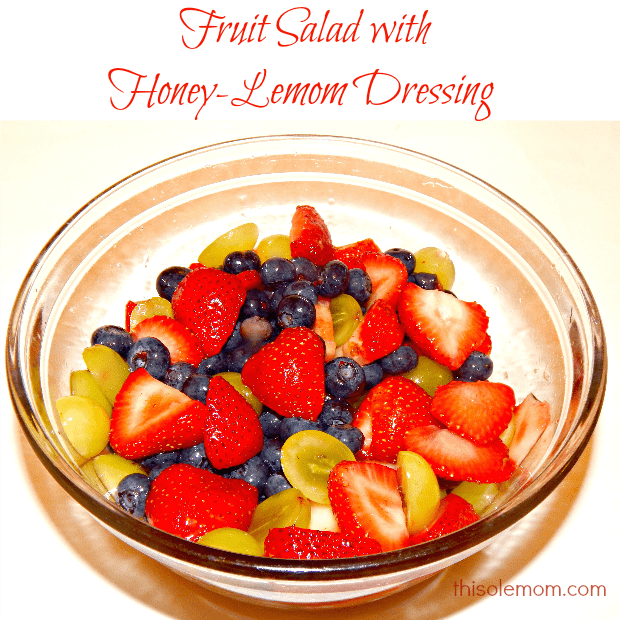 Ingredients:
1 Container Blueberries
 12 Green Seedless Grapes
1 (16oz. ) Package Strawberries
1 Pint Blueberries
1 large lemon
1/4 cup Raw Honey
Directions for Fruit Salad:
Rinse and dry the fruit. Pour blueberries into a medium size bowl. Slice strawberries and grapes, put them in the bowl with the blueberries.
*note – you can add whatever fruit you like.
Directions for Dressing:
Place honey in a small bowl and squeeze the lemon juice into the bowl. Mix the honey and lemon together.
*hint– put a small colander over the bowl to catch the seeds.
You could add some lemon zest to your salad if you wanted.
Let's finish the Salad:
Pour the  dressing over the fruit in the bowl and toss. Place Fruit Salad in refrigerator for 1-2 hours before serving. My son likes to eat his fruit salad with cool-whip on top.
I' m think next time I'll add baby spinach and walnuts to make a nice summer salad. Do you have a favorite fruit salad you like to make?