Organic India's Tulsi Tea Review
Disclaimer: I received products for free from the sponsor of the Moms Meet program, May Media Group LLC, who received it directly from the manufacturer. I love being a Moms Meet blogger; I get to sample products I wouldn't ordinary try. I agreed to use the Organic India products and give my honest opinion. My opinions may not necessarily reflect the opinions of May Media Group LLC or the manufacturer of this product.
I recommend consulting with your medical doctor before trying any new supplements or herbal products. I am not a medical profession, this review is based solely on experience with the product. This product is not intended to diagnose, cure, or prevent any disease.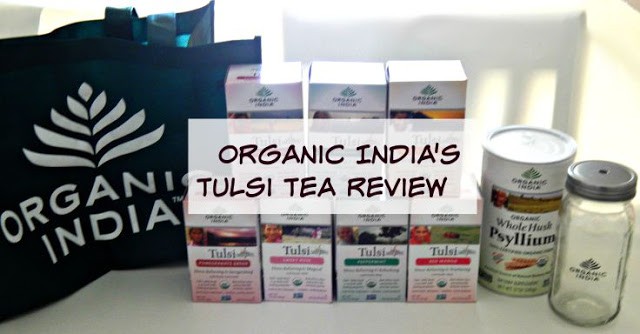 Just the Facts:
Tulsi has been considered India's"Queen of Herbs" for than 5,000 years and has been revered as one of the most sacred herbs in India, infused with healing power.
Organic India's Tulsi -Holy Basil Formula and certified organic Tulsi Teas includes three varieties of Tulsi leaves: Rama, Vana, and Krishna. Each variety perfectly has a slightly different look, taste, and smell and when combined, create a perfectly balanced herbal infusion with an array of health benefits.
Organic India Tulsi Tea is USDA Certified Organic, Non -GMO Project Verified, Kosher and Halal certified,  gluten-free, and vegan,
One box of Tulsi Tea retails for $5.99
My Review:
When I read about Organic India Tulsi Tea, I found out they offer 20 delicious flavors. I like knowing that the Tea comes in many flavors and is Organic certified and Gluten-Free. I was sent seven different teas to sample and a container of Organic Whole Husk Psyllium.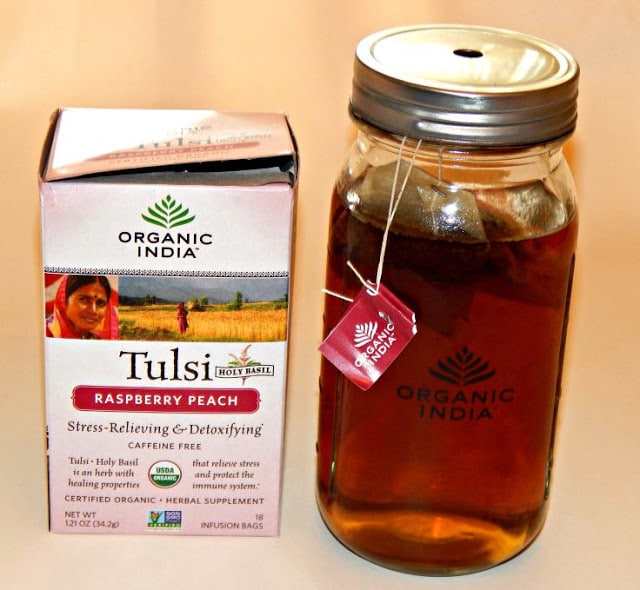 The first Tulsi Tea I sampled was Raspberry Peach. This tea by far was my favorite out of the seven tea samples  I received. I used the BPA-free glass I was sent with my box of teas. I poured 16oz. of water over two infusion tea bags and let soak for 30 minutes. The strength of the tea doubles when serving over ice.
Once the Raspberry Peach Tulsi Tea cooled I poured ice into the glass with the tea. I misplaced the clear straw that came with the glass jar, so I used a straw I had already. I did find this tea delicious. I didn't add anything to the tea to sweetened it; I found the tea perfect the way it was. I like that the tea was caffeine-free, too.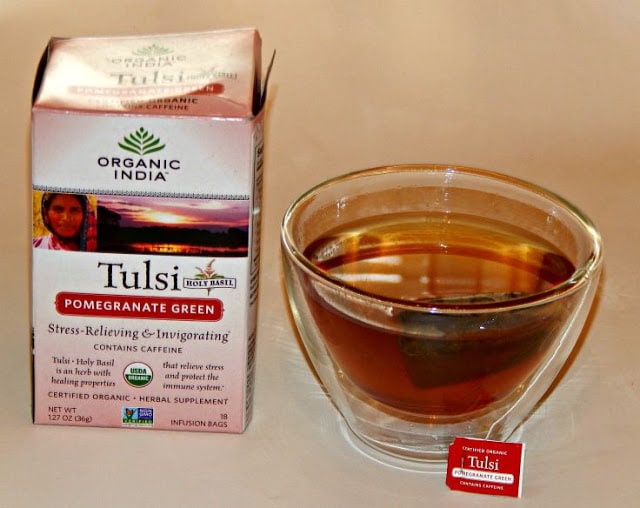 Next, the variety of Tulsi Tea I tried was Pomegranate Green. This type of tea contained Caffeine. I decided to drink this tea hot because it has caffeine I did not want the potency to double by serving it over ice. Even though this tea contained caffeine it did not make me jittery. I drank the tea without adding anything to it because I didn't want to beat the purpose of drinking tea with antioxidants. The Pomegranate Green was my second favorite flavor.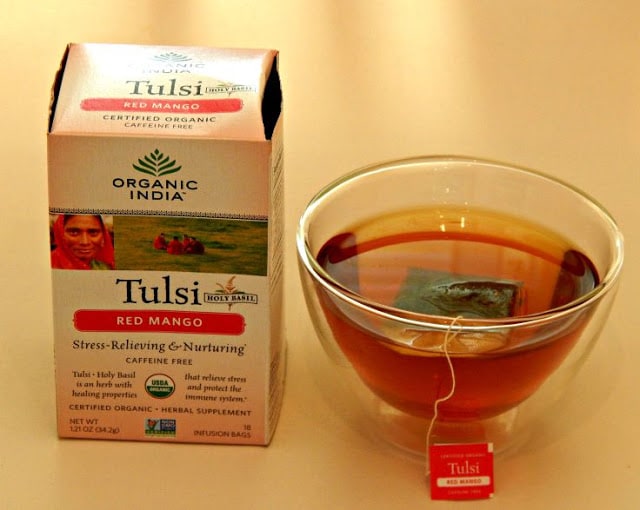 Then I tried the Tulsi Red Mango this tea was caffeine free. I did not like the taste or smell of this tea. If you decide to try Organic India's Teas, I recommend you sample each tea to find your favorites and your least favorites. Just because I didn't care for this flavor doesn't mean that someone else may love it.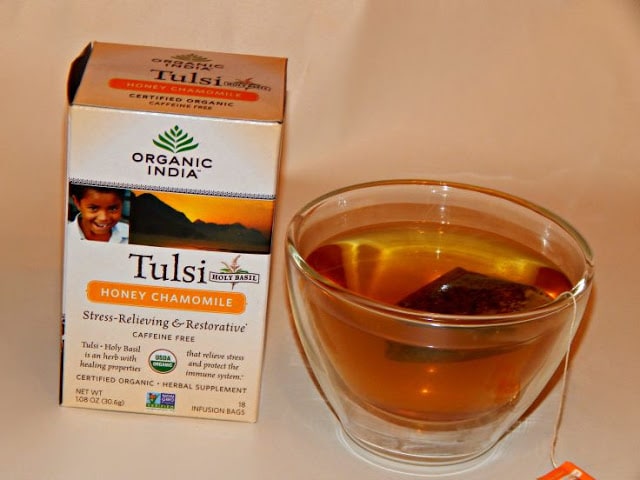 Next, I tried the Honey Chamomile Tea this tea was also caffeine free. I poured 8oz. of boiling water into a glass tea cup over one infusion bag. I let the infusion tea bag soak for 10 minutes. The name of this tea reminded me of the story of "Peter Rabbit" when Mother Rabbit gave Peter Chamomile Tea. I  didn't like the smell of this tea, but I did like the flavor after I added a bit of natural Honey to it.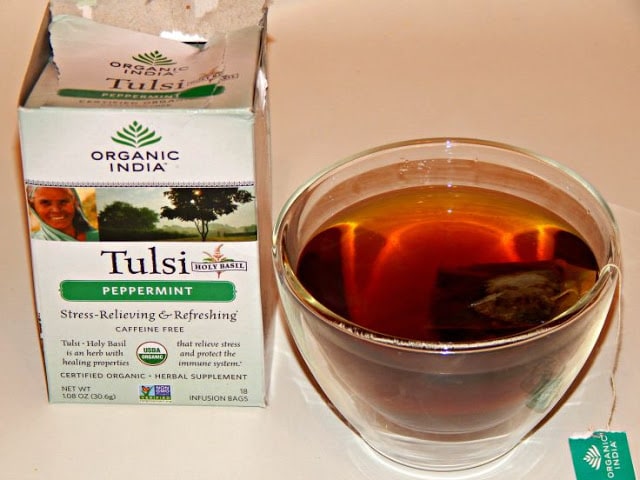 Last, I tried the Peppermint Tea. This tea is also caffeine free and another one of my favorites that I sampled. I decided to let this tea soak for  30 minutes before I drank it over a few ice cubes. I found this tea very freshening. It even made my breath smell good. I enjoyed the flavor of this tea and the smell of it. I think this tea would taste great served hot, too.
I did not sample the Organic India Tulsi Original or Sweet Rose Teas. I have tried these two teas before. I did not care for the Original. I like my teas to have a lot of flavors. I found the Original Tulsi Tea plain for my taste buds.  However, I do love the Sweet Rose tea . I have drunk it  many times. The Sweet Rose tea is caffeine free and I like it served hot.As far as the Organic Whole Husk Psyllium it's 100% certified Organic fiber. It's a soluble fiber that's good for Heart Health. I forgot to take pictures of me trying this product. But I did try the product because I need to add more fiber to my diet. The directions calls for 1 tablespoon to be mixed into at least 10 oz of water , juice or your favorite beverage. I mixed the Psyllium into my Orange Juice. Also, its recommended that you drink an 8-10 oz glass of water after you drink the Psyllium. The recommendation for the Organic Whole Husk Psyllium is for Adults and children 12 years and older.
Even though I didn't mind drinking the Psyllium, I probably wouldn't use it again. If you're thinking about adding a soluble fiber to your diet, I  recommend you trying the Psyllium and make a decision about this product yourself. Note- always consult with your doctor before trying a new herb or supplement.
If you're looking for a certified organic, gluten-free, vegan and vegetarian-friendly products, you should try Organic India. You can go to ORGANIC INDIA  
website
  use the coupon code kiwi20 to save 20% off their products. This code is for one-time use only.
This review is based on my opinion. Others may have a different opinion or experience with the products listed. I received the samples free of charge, and I provided my honest opinion. See my disclosure 
here
. #momsmeet
Best Wishes,
Kim
I love comments or email me kseghers@rocketmail.com