Learn how to cook Open Blue Cobia Fish Brunch for Two. It's a simple and delicious tasting fish recipe that's perfect to serve for brunch anytime.
I'm excited that I have been invited to enter the Open Blue Cook-Off  Contest, I am always up for a challenge and love the chance to show off one of my concoctions.
When I read about Open Blue Cobia, I was happy to learn that this healthy and versatile fish is being raised sustainably. I decided to showcase this beautiful whitefish in a mouth-watering brunch recipe.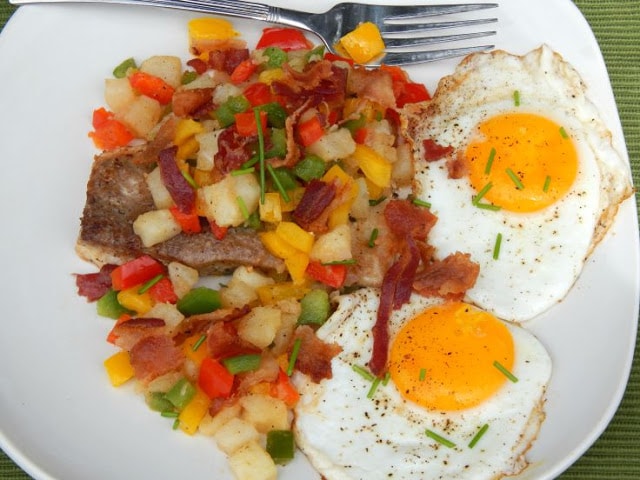 Disclaimer: I was sent a free shipment of Open Blue Cobia to help me facilitate my recipe submission for the Open Blue Cobia Cook-Off Contest.
I wanted to prepare the Open Blue Cobia with ingredients that would complement the fish.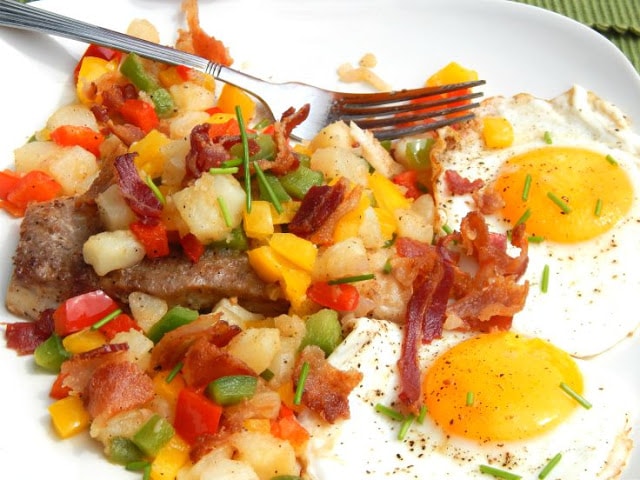 I prepared and served the Open Blue Cobia with fresh yellow, red, and green bell peppers, bright green chives, red onions, diced hash brown potatoes, crumbled bacon and sunny side up eggs.
The Open Blue Cobia fillets were lightly pan fried in bacon fat with chives before baking in the oven.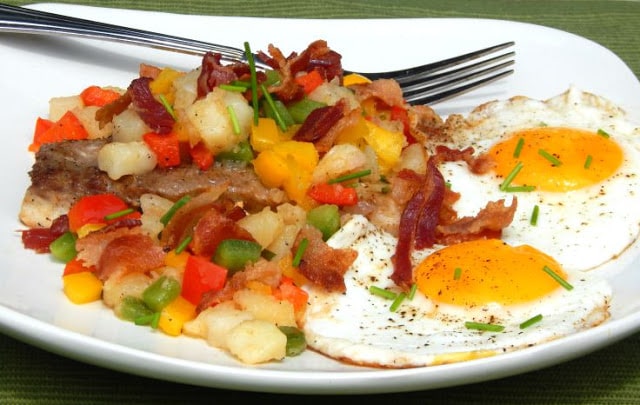 When serving the Open Blue Fish Brunch for two, you could pair it with a nice beverage.
What's In Open Blue Cobia Fish Brunch For Two
(2) 6 oz. Open Blue Cobia fillets with skin removed
2 cups diced hash brown potatoes (from bag of diced hash brown potatoes)
1 each – medium red, green, and yellow bell pepper diced
1 lb. bacon for grease (fat)
4-6 slices cooked bacon crumbled
Four large eggs
1 cup fresh chives chopped coarsely
1/2 red onion diced
3 tablespoons vegetable cooking oil
sea salt and black pepper to taste
2 teaspoons granulated garlic powder
cayenne pepper to taste (optional)
Non-Stick Cooking Spray
cookie sheet  lined with non-stick foil
How to cook Open Blue Cobia Fish Brunch
First , preheat oven to 350 degrees
1. In a large pan cook bacon over medium heat until nice and brown. Turn off the stove top once bacon is cooked. Remove bacon from grease and place on a plate lined with paper towels.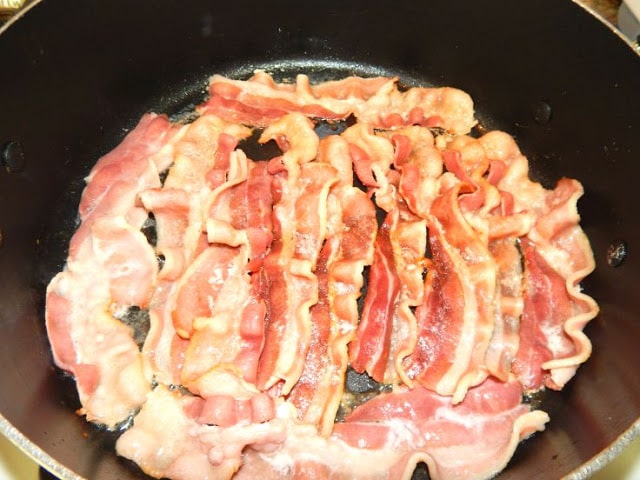 2. Remove half of the bacon fat from the pan and set aside. Saute the diced yellow, red, green bell peppers, and onions in the pan with the bacon grease (fat) on medium heat until tender, make sure to stir frequently. Once the vegetables are cooked, pour them into a large bowl. Set bowl aside.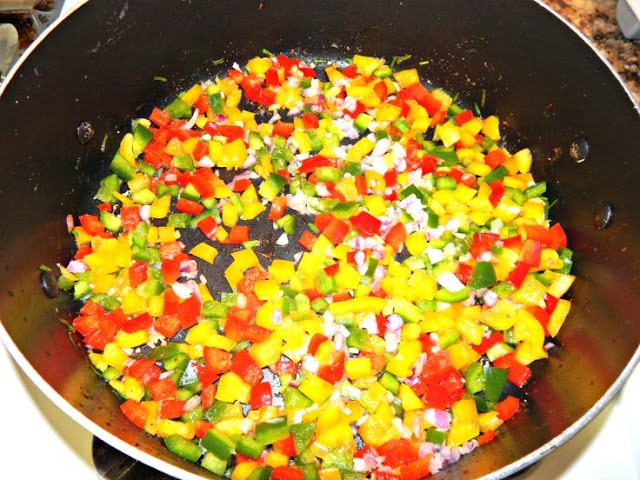 3. Lay your Open Blue Cobia fillets on a clean flat surface and season with sea salt and black pepper to your liking on both sides of the fillets. Using 1/2 cup of fresh chives sprinkle a bit on each side of the fillets. Note- make sure your fish fillets are rinsed and pat dry with paper towels.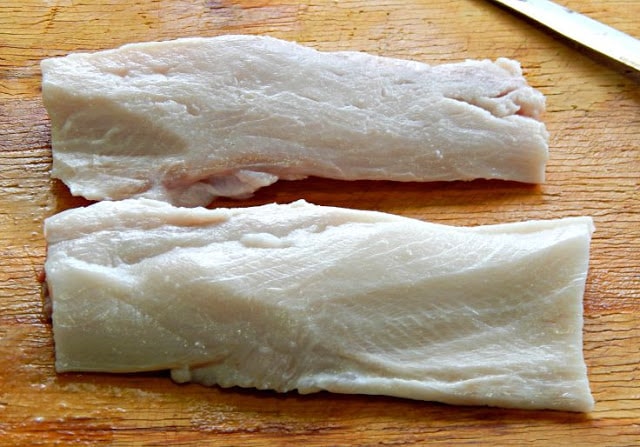 4. Pour the remaining bacon grease into the large pan on the stove top, warm on medium heat. Once the bacon grease warms cook the Open Blue Cobia fillets in the bacon grease until light golden brown on both sides about 1-2 minutes on medium heat.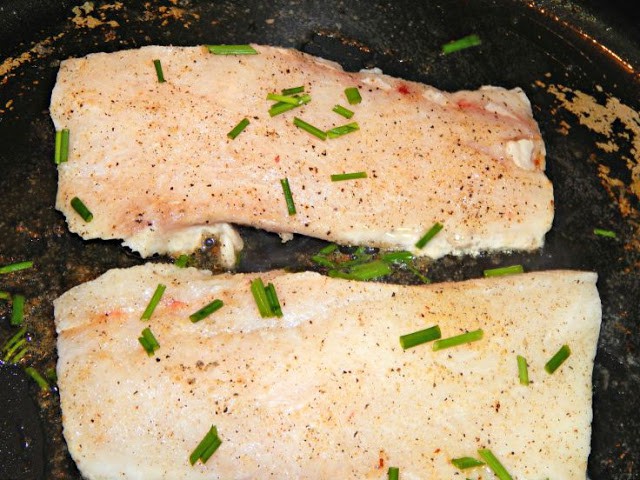 5. Spray the cookie sheet lined with aluminium foil with the non-stick Cooking Spray. Place the Cobia fish fillets on the pan in the preheated oven. Bake the fillets on 350 degrees for 20 minutes in the oven. Once the fish is finished baking remove from the oven.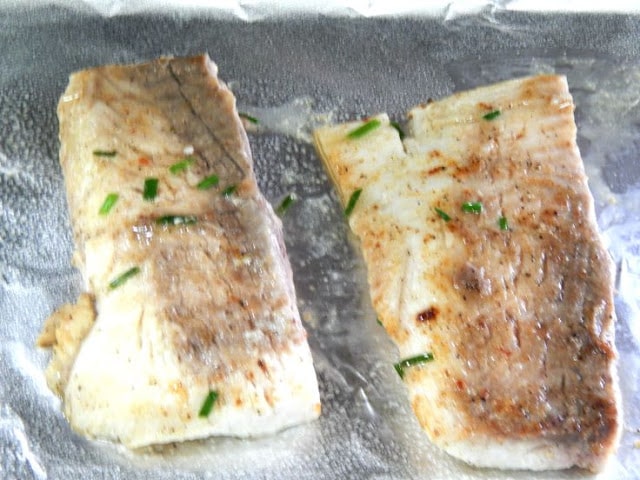 6. While the fish is in the oven, do this step: In a large pot heat three tablespoons of cooking oil on stove top. Cook the diced hash browns according to the directions on the bag (4-7 minutes). I used 2 cups of my favorite bagged diced hash brown potatoes.
Once the potatoes are cooked, using a slotted spoon stir in all the bell peppers and onion mixture, except 3/4 cup. (reserved 3/4 vegetable mixture to use as garnish.
Cook the hash browns and vegetables on low heat until the vegetables are warm.Stir in the garlic powder and season with salt, pepper, and cayenne pepper to your liking.
7. Warm an electric skillet to 300 degrees. Next, generously spray Non-stick Cooking Spray onto the skillet. Cook four large eggs, sunny side up. Cook the eggs while the diced hash brown potatoes are cooking.
Note- the eggs will be done when the egg whites set, but the yolk is runny about 2-3 minutes. Using the skillet warm 4 to 6 pieces of bacon while the eggs are cooking, when bacon is warm remove from skillet and set aside.
Once the eggs are cooked removed promptly. Get two large plates, put two eggs on the edge of each plate.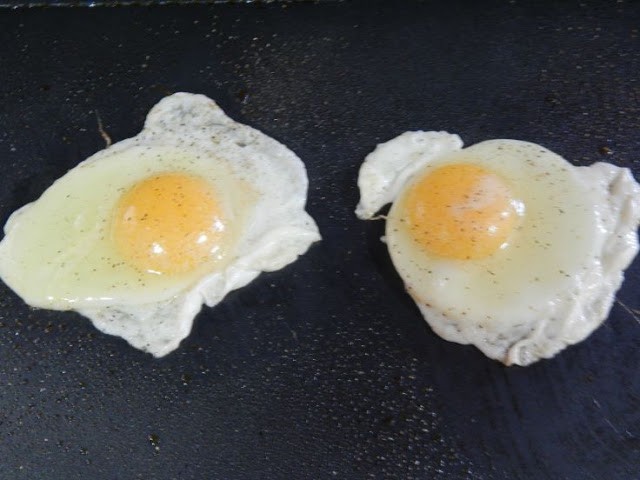 How to plate Open Blue Cobia Fish Brunch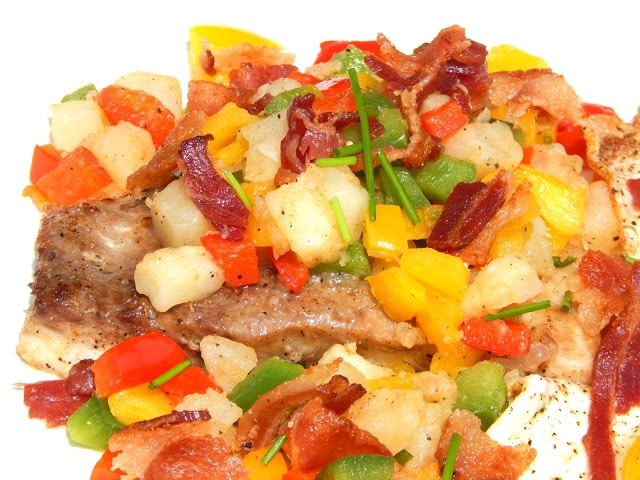 On the large plates where the sunny side up eggs was placed, put a fish fillet on each plate. Next with a slotted spoon put half of the vegetable and diced hash brown potatoes on top of each Cobia fish fillet.
After, use the slotted spoon to put a bit of the remaining bell pepper and red onion mixture on top of each fish fillet. Crumbled 4-6 pieces of bacon depending how much bacon you want, and put some on top of the diced hash brown potatoes on top of the fish fillets.
Sprinkle some of the remaining chives over each plate making sure to put chives on the eggs, too. Stand back and admire the beautiful colors and the mouth watering Brunch you made. Serve while it's hot.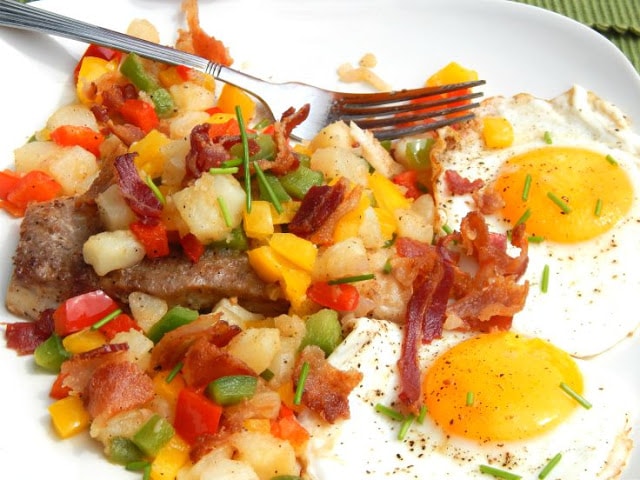 I love the way the bacon tastes with this delicious white, firm, moist fish and the way the vegetables give crunchiness to this unique brunch.
Who would have thought Open Blue Cobia would taste great with bacon, eggs and hash browns!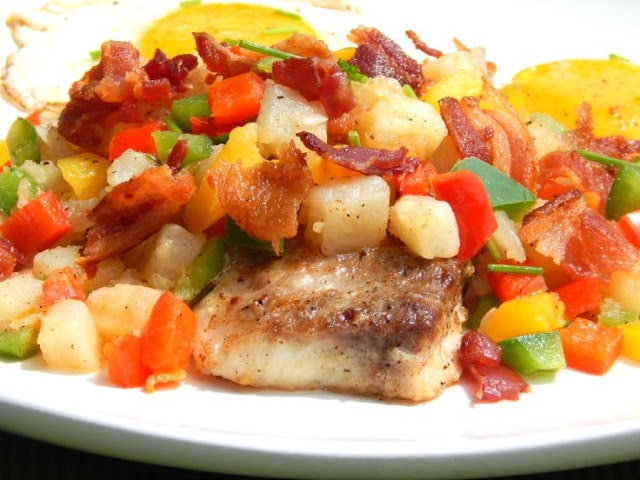 Did you know that Open Blue Cobia is raised in the open Ocean? Open Blue Cobia is pure, healthy and safe- free of containment, colorants, hormones, and pesticides.
That makes me happy to know that I am feeding my family a great tasting fish that is sustainable and healthy for them.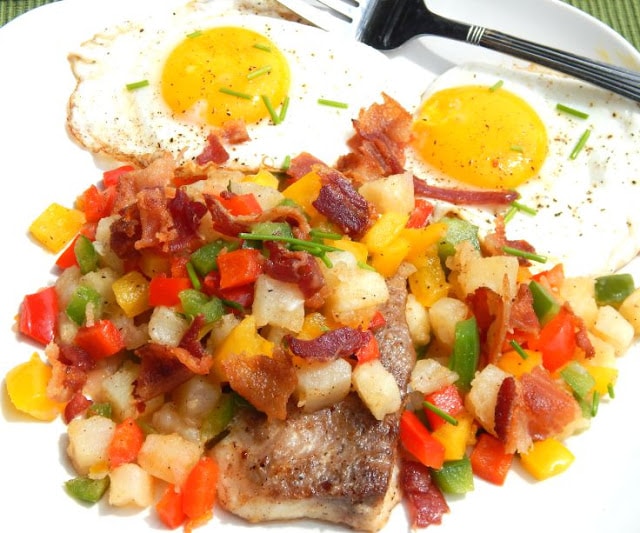 I hope you love my brunch recipe for two. You could easily double the recipe to make it for four people.
Wish me luck to be selected as one of the five finalists to go to Charleston, South Carolina for the live cook-off event. One (1) Grand prize winner will be awarded a trip to Panama to visit Open Blue.


Update: Well folks yours truly was chosen as one of the five finalist to go to the live cook-off  in Charleston.