I love going to thrift stores looking for the perfect item to upcycle, especially when I find a good deal. Thrift shopping makes me feel like an excited kid on Christmas morning. Recently, when I was thrift shopping, I spotted an old end table I knew right away it would make a great Lego/Duplo table for my little boy. I happily paid the cashier $3 the store wanted for the table and headed home to began transforming the ugly dinged up end table into a cute toy for my son.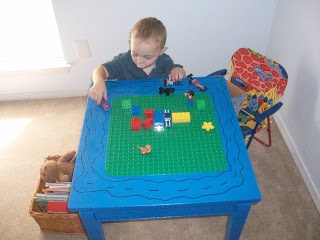 Above is a picture of the Lego/ Duplo Table that I made for my little boy using the end table from the thrift store. I lightly sanded the table and sprayed painted it blue. Next, I  glued a Duplo Board down in the center of the table. I purchased the Duplo Board from Toy "R" Us. I drew a car track around the top of the table using a black permanent marker.
My son loves playing with his blocks and driving his cars around the track on the table. I am jubilant with the way the table turned out. It's a great table for toddlers and young children.
Kim's note –  Make sure you don't spray paint in the wind. You may want to use something to make a tent around the table to catch the spray paint while you're painting. You can prevent having an embarrassing moment like I did!!!
After I had painted the table blue, I walked next door to introduce myself to my new neighbors. They seemed nice, but I noticed they kept staring at my face. I didn't think anything of this. .. then I proceeded to my car to run a quick errand. When I peeked in the mirror, I was HORRIFIED !! I looked like a SMURF!!! I had blue paint up my nose, in my hair, eyebrows EVERYWHERE!! I could only imagine what my neighbors had thought!!
In the end, the table was all worth every bit of embarrassment. My little boy has a cute Duplo/Car table that he loves!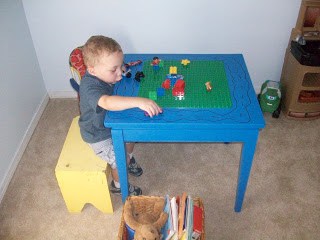 Did you have any embarrassing moments while painting? Tell me below in the comment section I would love to hear about them.
Happy Thrift Shopping, Kim