I 've been working on the letter "A" with my son and teaching him to recognize his numbers. We have been doing several activities with Apples when he started asking questions about Apple Trees and how they grow and he wanted to know the reason we didn't have one growing in our backyard. After we looked up places where Apple Trees grew and looked at several pictures of Apple Trees on the web, then a light bulb went off in my head !! That's when I came up with the AMAZING idea for this Apple Fun Number Tree.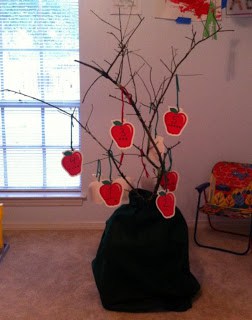 I made my son is very own Apple Tree !
I was all excited and when it was his nap time I got to work on his  "Apple Fun Number Tree" !
When my son woke up from his nap and saw his Apple Fun Number Tree, he was so excited! He wouldn't stop jumping up and down so; I couldn't get a picture of his face when he saw the tree for the first time. He must have told me a GAZILLION times I love you mommy and I love my tree!! Thank you, Thank you so, so much!!
My little boy picking his Apples !
How I made the tree :
The best part I already had everything I needed !
*Branches from my tree .
*Apple cut – outs (from Dollar Tree )
*Pipe Cleaners (I used a hole puncher to punch holes in the Apples then tied the pipe cleaners to them)
*a coffee can or container to put branches into.
*Play- doh which won't hold up for too, long (I was coming up with making the tree as I was going along and using what I had. I suggest to use cement or plastic of paris.
*I placed the container on my son's foot stool for height and taped it down with duct tape .
* Material to cover the foot stool and the container .
*Basket or container for them to place their Apples .
Books I read to my son after he picked his Apples . (We were working on the letter "A" so, I already had picked the books up from the Library )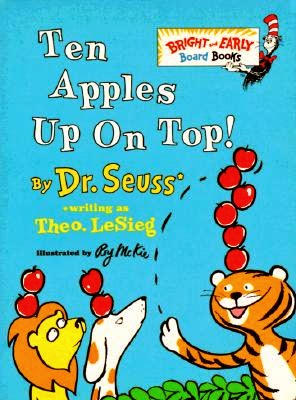 Who says you can't go Apple picking no matter where you live!! Hope you like our Apple Fun Number Tree.