The Kids Olympic Creative Play is a fun DIY project and hands on activity to help kids get excited about the Winter Olympics.
The Winter Olympic Games is a major international sporting event that takes place once every four years. My favorite event to watch is Alpine Skiing.
I decided to introduce my son to the sport by making his very own Alpine Skiing course to use his imagination and creativity.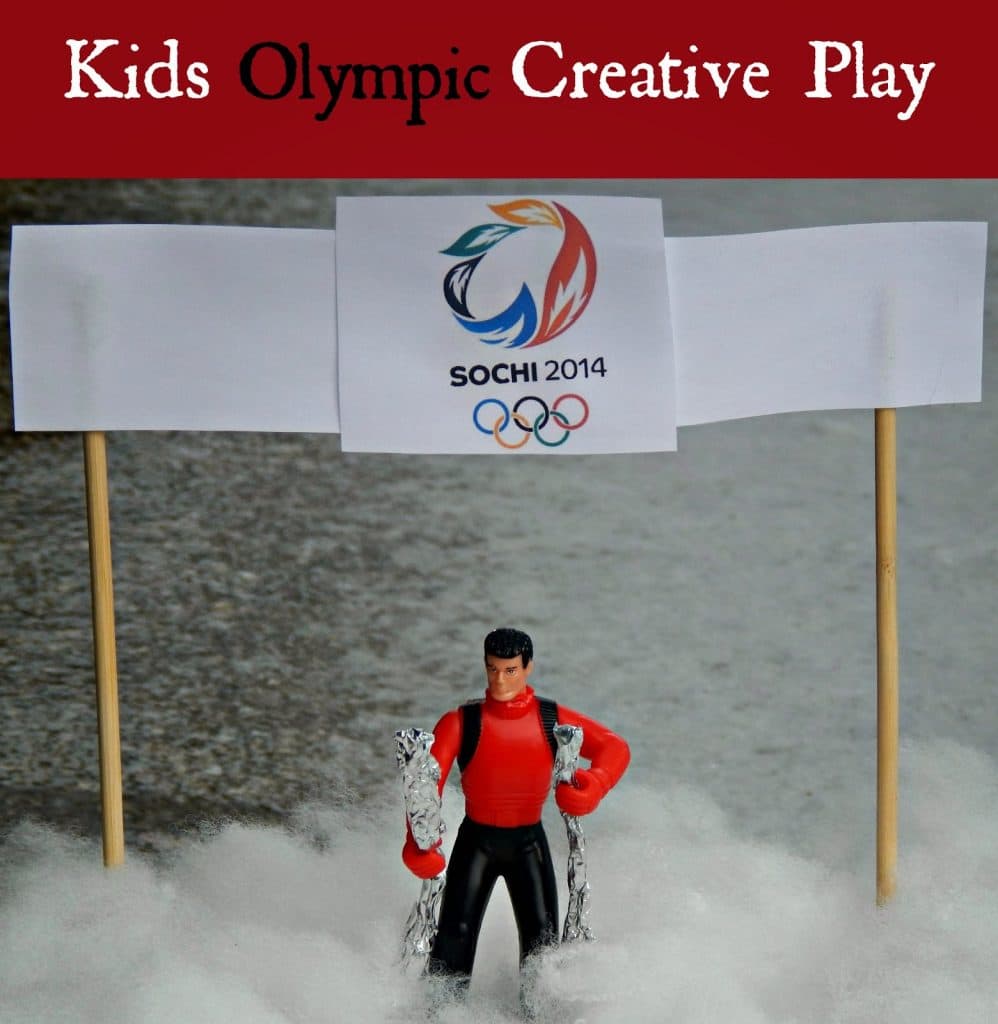 This kids Olympic Creative Play is fun and easy for the entire family to make together. It would make a great snow or rainy day activity.
Supplies needed for Kids Olympic Creative Play 
Soft Touch Poly Fil
Small Shoe Box
White Poster Board
Chopsticks
Craft Glue
Glue Gun
Scissors
Pictures to Print
Printer
Plastic Figures
Sorry, I forgot to take pictures of each step.
How to MAKE Kids Olympic Creative Play 
Glue the top on your box. Next, place the  box on top of the poster board and trace the width of your box, then cut it to the length of the poster board.
Next, glue the poster board to the box. Squeeze craft glue on the poster board and glue on your fiber fil pressing it down with your hands.
Print out pictures or signs to use as your sponsor advertisement signs. Cut your chopsticks and glue your print outs to them.
Using the glue gun,  glue down your signs that you made.
Cut holes in the top corner of your box . Put glue on the end of two  chopsticks (do not cut)  place in the holes . This will be for your banner.
Last glue your printouts to the chopsticks.
 Advertisement Signs that we made.
 It's finished! Give your child plastic figures to play with.
My son enjoyed pretending he was competing in the Olympics.
 Do you watch the Olympics? What's your  favorite event? I hope you enjoyed our Winter Olympic Alpine Skiing Craft. .