If you live in Louisiana or just happen to be in the area visiting, you should check out Steele's Pumpkin Patch and Corn Maze. It's a great place to bring your family for some good old fashioned Fall family fun. Located in Angie, Louisiana (Washington Parish) on the Northshore. The Pumpkin Patch is owned and operated by the Steele Family, which  I had the pleasure of meeting today when my family visited their lovely place. The Steele's Pumpkin Patch and Christmas Tree Farm offers a friendly atmosphere for families.
There're lots of things to see and plenty of fun activities to keep your children busy. Open September 27- November 2nd 10-6pm on Saturdays and Sundays 1-6 p.m. $8.50 plus tax per person and children 2 and under get in free. When you pay to get into the Pumpkin Patch, you will receive an armband.
My little boy had lots of fun at the Pumpkin Patch today. I'm so glad that I stumbled upon the Steele's website when I was looking for Pumpkin Patches in my area. It's such a perfect place to create memories with your family. Being a mom of two older children I've been to plenty of Pumpkin Patches, and I have to tell you that the Steele's has one of the best Pumpkin Patches that I have ever visited!
My son was enjoying an old fashioned Hay Ride.
The Jump Pillow
Horse-A-Round – A Carousel like ride with tire swing ponies!
Moo Moo Choo Choo – Six wagons painted to look like cows pulled by a cub cadet!
My son enjoyed riding the Moo Moo Choo Choo and checking out all the beautiful scenery.
 You can see the Corn Maze in this picture.
The children can see the beautiful horses in the field as they pass by on the Moo Moo Choo Choo.
I think the Steele's Farm is breathtaking!
Sheridan Express Railroad – 3 passenger cars which can carry six children each.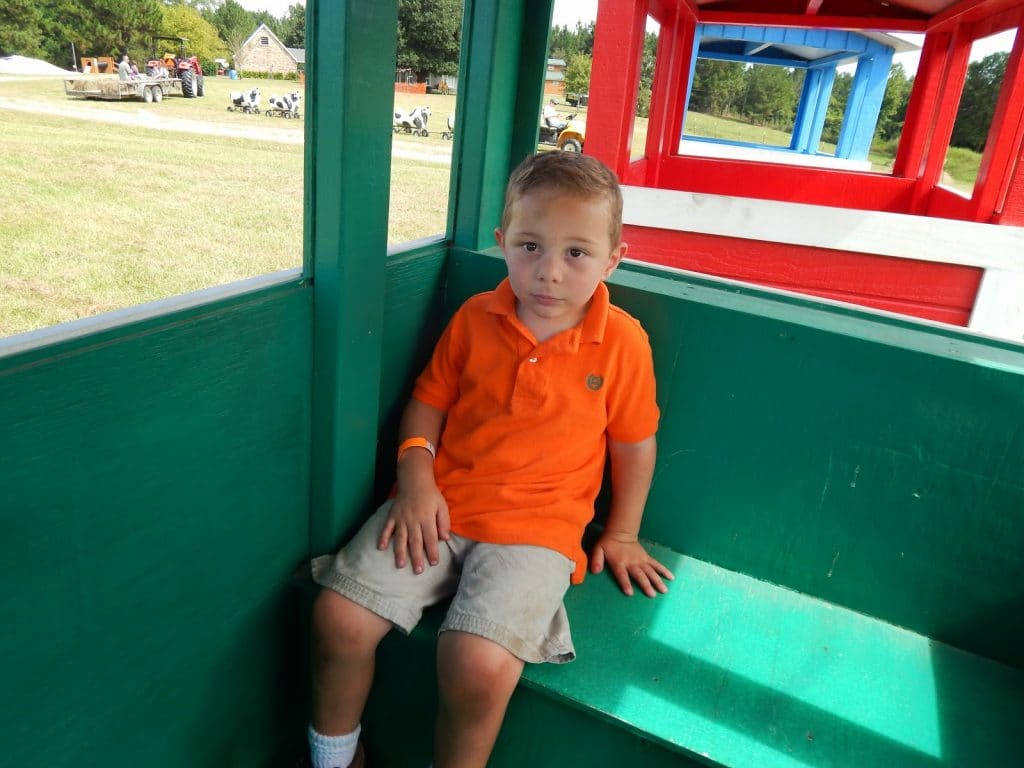 Twin Towers – A 40′ tube slide down a hillside!
25′ Diameter Rope Spider Web suspended on telephone poles.
My son loved climbing on the Spider Web.
I enjoyed watching my son climb on the Spiderweb. He kept falling and getting back on it!
Zip Lines – 2 100′ foot long lines of fun on tire horses! (children only)
I think this was my son's favorite. He did this ride at least five times.
All the children seemed to enjoy the Zip line. I was jealous!
After my son had played we went to the petting Zoo.
 The Farm has over 30 animals that the children can pet and feed.
 I think the calf was my favorite animal.
My son was telling the animals goodbye!
After my son was finished visiting the animals at the petting Zoo, we went and washed our hands and had lunch. They recently built a concession stand that serves food and drinks. You can sit down and enjoy lunch with your family under the new Country Pavilion behind the Gift Shop or at one of the picnic tables are located throughout the farm. After we had eaten lunch, we hopped on the Hay Ride to the Pumpkin Patch to pick out a Pumpkin. We bought our ticket for the Pumpkin when we bought our armbands.
 He was amazed by all the Pumpkins!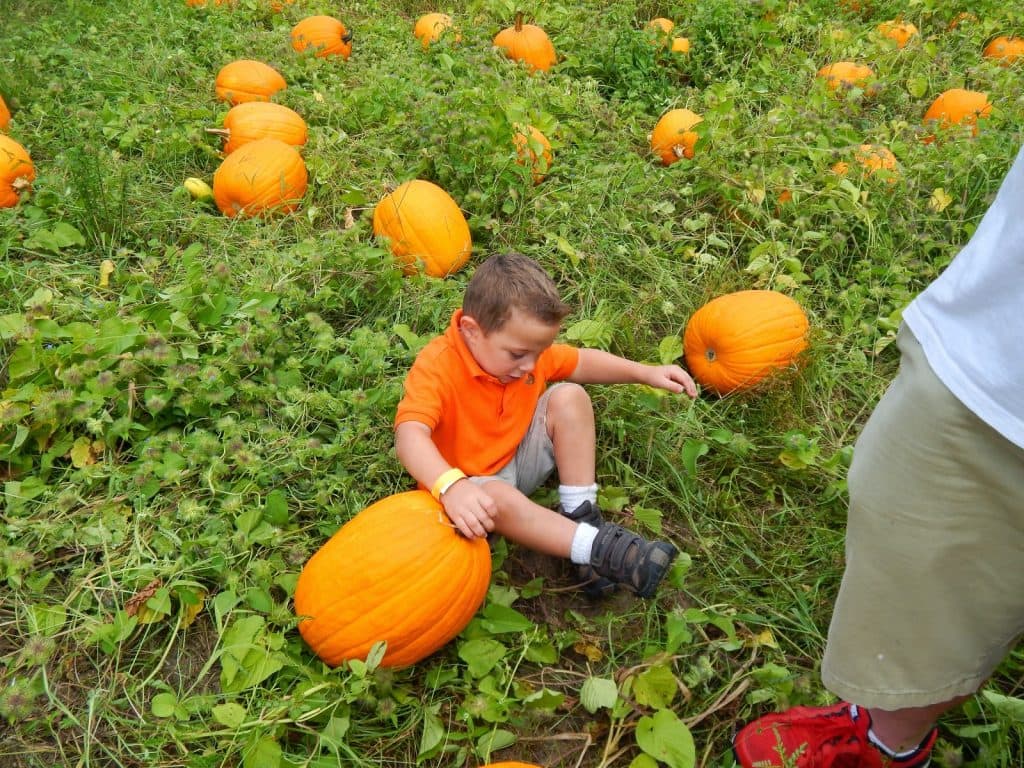 He couldn't make him his mind. They had so many beautiful pumpkins to choose.
We enjoyed our day at the Steele's Pumpkin Patch and Corn Maze. There were so many different activities that I think we forgot to do some. But, we already started planning a trip back to the Pumpkin Patch. I think Steele's Pumpkin Patch and Corn Maze will become one of my family's fall traditions.