I am excited to announce that I was selected by Disney Parks and Mom Select to host a #DisneySide @Home Celebration! I can't wait to share my Disney Side with all of you for the second year in the row. This year DisneySide @ Home Celebration party host and hostess were given themes according to their surveys. I didn't receive a theme that means my party kit will have stuff from Mickey Mouse and his friends. I couldn't be happier since my family loves Mickey. My head has been spinning with ideas for my #DisneySide @ Home Celebration. Here's a cute Mickey Mouse Photo Holder that I came up with when I was supposed to be sleeping last night!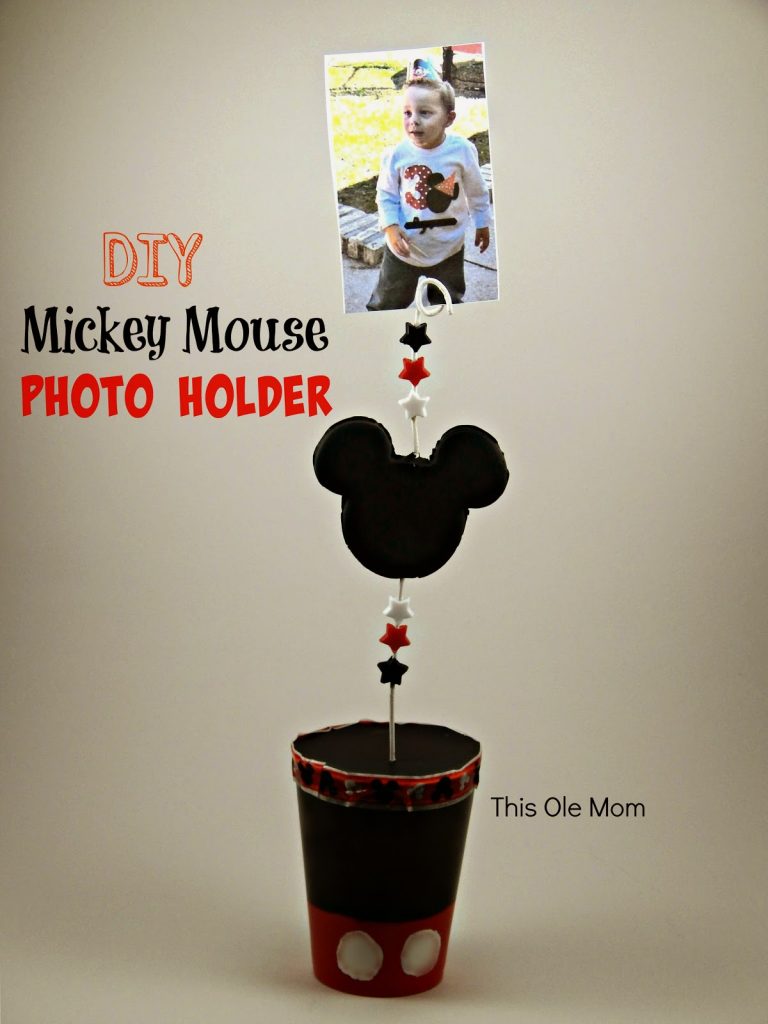 This is the supplies needed to make your own Mickey Mouse Photo Holder.
Paper Cup
Wire
White Spray Paint
Red Spray Paint
Black Spray Paint
Star Beads
Black Polymer Clay
Plaster of Paris
Black Poster Board
White Acrylic Paint
Paint Brush
Super Glue & Craft Glue
Needle Nose Pliers
Painter's Tape
Rolling Pin
Cookie Sheet Lined with Foil
Instructions:
1. cut the wire to desire length making sure to leave room for the bottom of the wire to go into the cup and top of the wire to be coiled. Set aside. Kim's note– Don't worry if the wire isn't straight. (I bought the wire from the Dollar Tree. You could use a wire coat hanger.)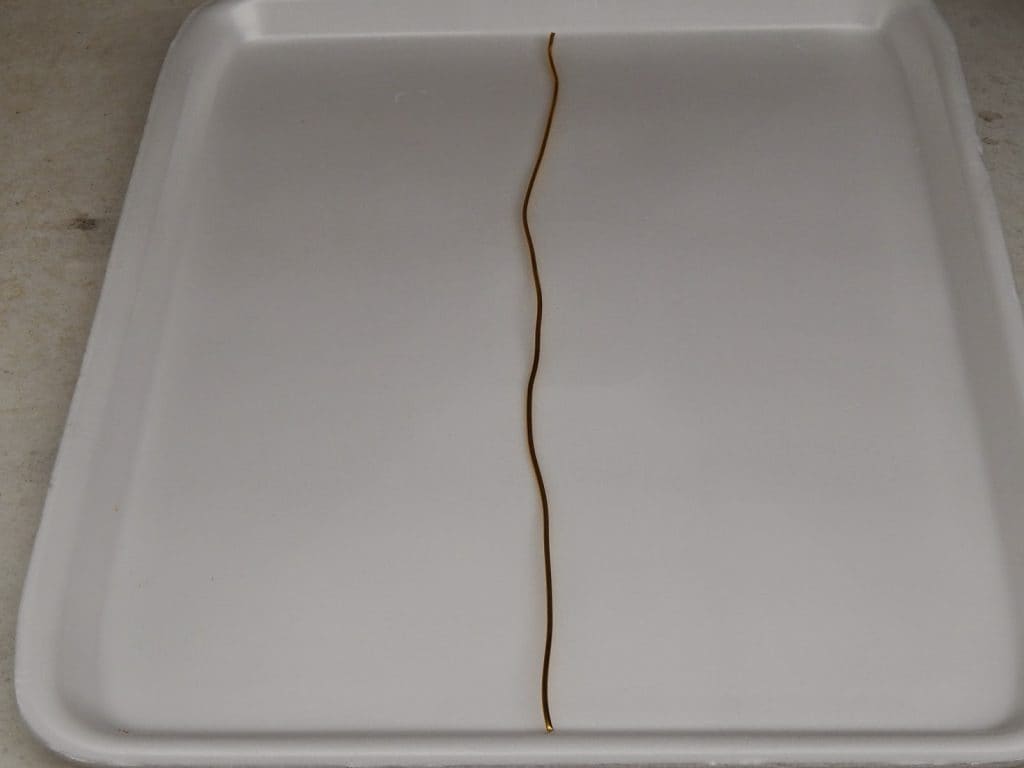 2. Remove the Polymer Clay from the package and knead. Place the kneaded clay onto a clean cutting mat. Using a rolling pin roll the clay flat into a circle. Make sure the circle is 1″ inch thick. Using the tips of your fingers smooth out cracks. (I laid wax paper on top of my cutting board.)
3. Cut out Mickey Mouse using the cookie cutter. Using a sharp knife cut clay from around the outside of the cookie cutter and carefully remove the shape pushing downward.
4. Take the wire you set aside and carefully push it through the bottom of the clay shape. Don't rush this step. Make sure the wire comes out at the top of the Mickey Mouse head. You can straighten the wire as you do this step slowly. (smooth out cracks with tips of your fingers.)
5. Flip the shape over onto the backside. Using the tip of an eraser press the Polymer Clay around the opening and closing of the wire. Make sure the Mickey Mouse shape doesn't move up or down.
6. Preheat the oven to 275 degrees. Place the Mickey Mouse and wire on a cookie sheet lined with foil in the oven for 22 minutes. Remove from the oven and cool. Please don't touch it will be hot!!
7. Cover the Mickey Mouse shape with painter's tape and spray paint the wire white. Let the paint dry and remove the tape. Touch up spots with white acrylic paint or use white out.
8. Slip beads onto the wire and carefully glue into place using super glue. Let dry. Kim's note- I painted two white stars black. I couldn't find black stars at the craft stores.
9. Wrap painter's tape around the top half of the paper cup and spray paint the bottom half with red paint. Let dry and remove the tape. (I used Poppy Red paint from Home Depot.) Use white acrylic paint or a white paint marker to paint two round circles on the red part of cup for Mickey Mouse's buttons.
I added a few tablespoons of Plaster of  Paris with a little water at a time. You could also use cement.
I hope you like my Mickey Mouse Photo Holder. You could use it to hold recipe cards, name cards, your favorite picture from your Disney trip. I  thought about using it to hold food name cards when I host my DisneySide @Home Celebration or give them away as party favors with a picture of each guest at the party.
Here's a picture of the tape and beads I used from Hobby Lobby.
Bonus:
Minnie & Mickey Mouse Polymer ClayPendants here.
How do you show your Disney Side?
I love comments or email me kseghers@rocketmail.com