Do you ever have those days when you just don't feel like prepping and cooking a big meal for supper?
If you answered yes to this question. I have a solution for you, it's Barbeque Pulled Pork.
It's just one of the perks being a Hormel Foods Extended Family Blogger, I get to sample products then tell all of you about them.
I have never seen this Pulled Pork before in the stores, so I was anxious to try it when I received it.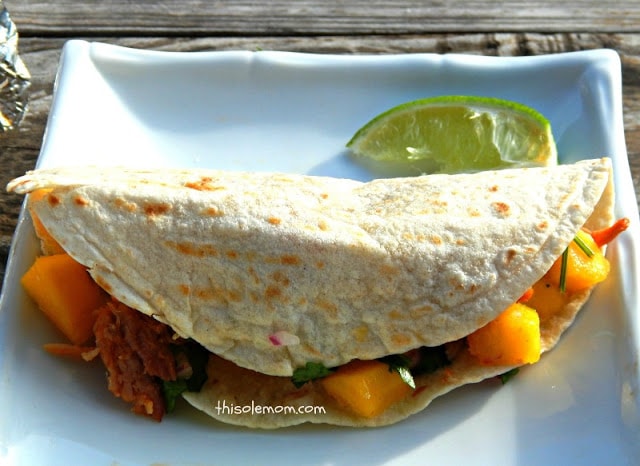 I decided to make Barbeque Pulled Pork Tacos. The best thing about this product besides the taste is that it's fully cooked, all you have to do is follow the directions on the package to warm it up.
I decided to unwrap the Pulled Pork and wrap it in some aluminium foil to warm it on the Gas Grill.
It took me exactly 20 minutes to warm up the meat. That's it twenty minutes! I then made fresh homemade Mango Salsa to put on top of the Pulled Pork.
I just want you to know I was really impressed with this product. I think you will want to try this recipe.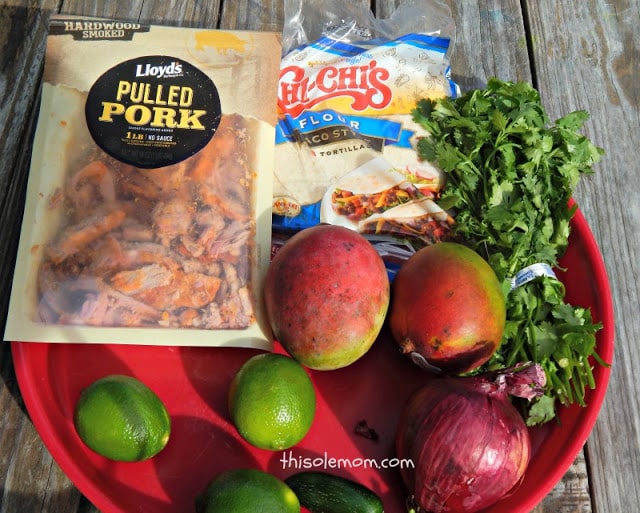 Ingredients:
Aluminum Foil
Tortillas
1- Medium Mango
1- Lime
1/2 Cup Diced Red Onion
1- Jalapeno Pepper
1 Cup Fresh Cilantro
Just to let you know, I was able to make 6 Tacos using the 1lb. package.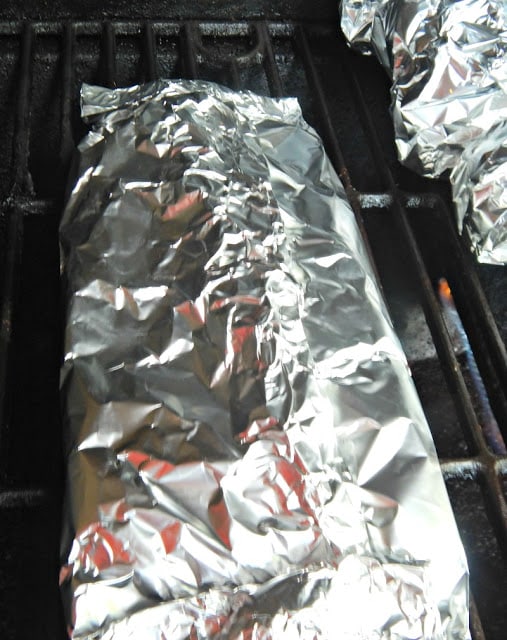 1. Remove the Barbeque Pulled Pork from the packaging and wrap up in Aluminum Foil. Place the foil package on the grill for 20 minutes.
The grill should be heated to 350 degrees. Cook the pork for 10 minutes then flip over the foil package, cooking for another 10 minutes.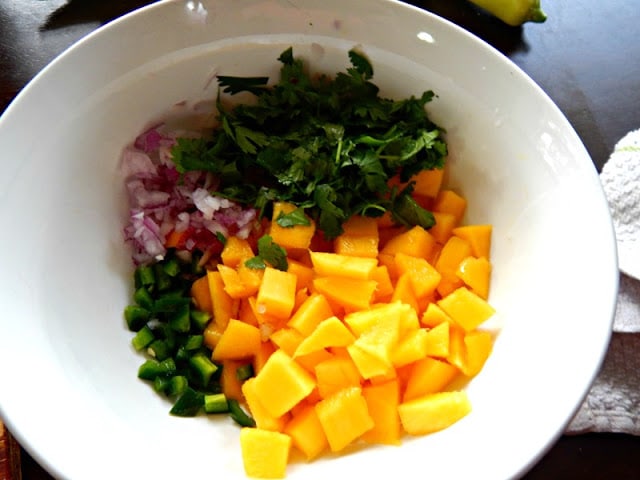 2. While the Pork is on the Grill make your Mango Salsa. Peel and cube the Mango into small pieces, chop 1 cup cilantro, dice the Jalapeno Pepper removing and discarding the seeds, dice 1/2 cup red onion, juice one (1) lime.
Place all the ingredients into a medium size bowl, pour the lime juice on top and mix together. Cover with Saran wrap and place in the refrigerator.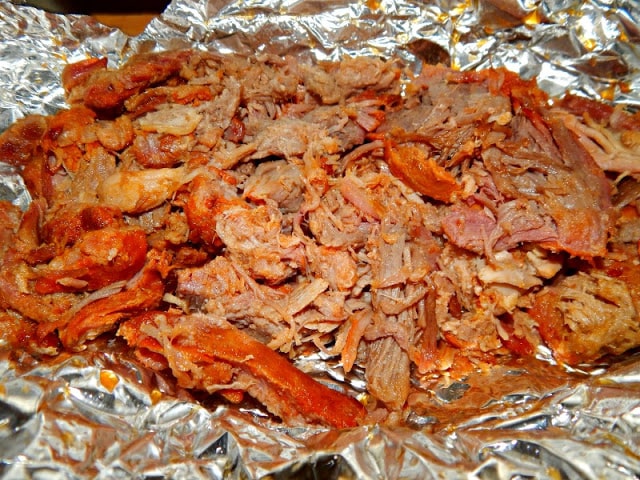 3. Once the Pulled Pork is done, carefully remove it from the grill using tongs and wearing oven mitts.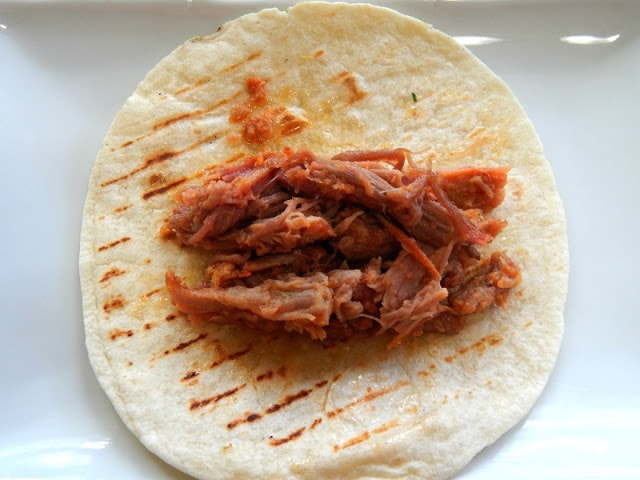 4. Warm up the tortillas on the Grill for 2-3 minutes. Then place some of the pulled pork in the middle of the tortilla.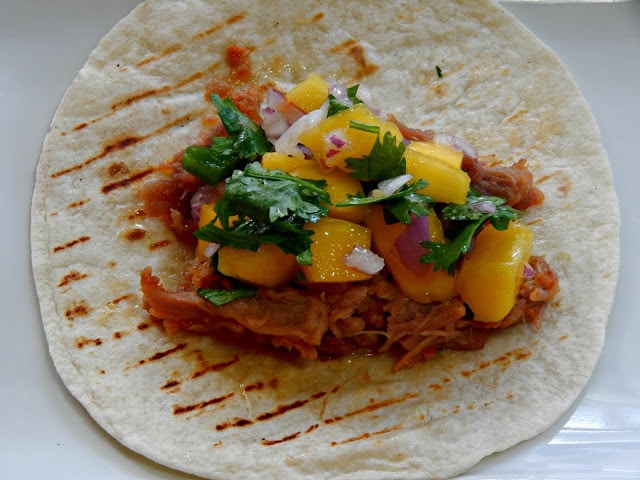 5. Remove the Mango Salsa from the fridge, put some on top of your pulled pork. Roll up your tortilla and enjoy.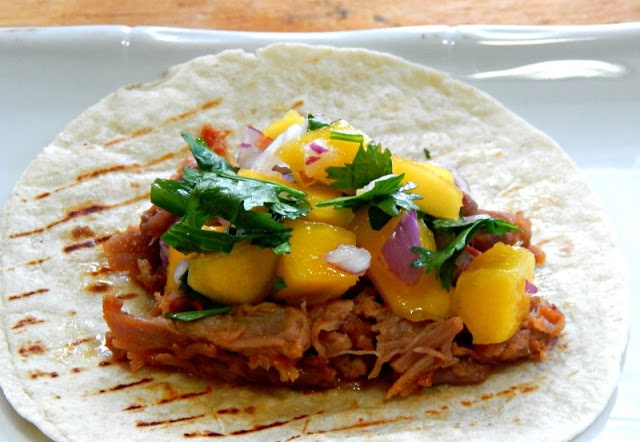 Isn't the Salsa pretty? The Pulled Pork tastes delicious with the Mango Salsa.
I didn't have to season the meat or add anything to it. You could use any condiments you want on top of your Barbeque Pulled Pork Taco but once you taste this, you will not want to.
This recipe is simple but tastes so flavorful.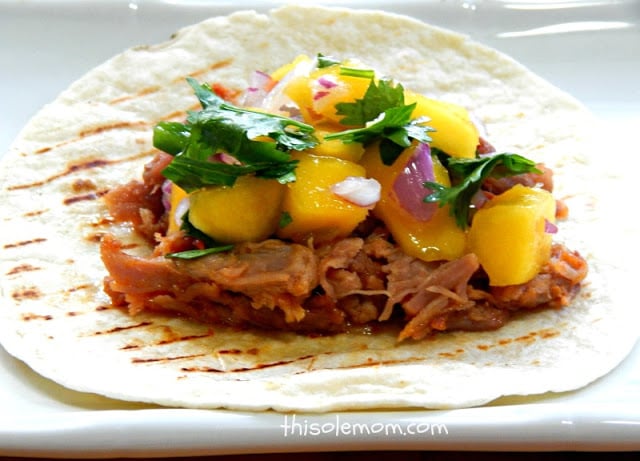 Lloyd's Pulled Pork reminds me of the Pork I had once at a Laua while vacationing in Hawaii a few years ago, where they cooked the pig in the ground.
I am very impressed with this Pulled Pork. It didn't taste like it came from a package even my husband was impressed.
It's not too often I go Ga-Ga over Pulled Pork. Usually, I am not a fan of it because I find it dry. I reassure you this pork was not dry.

I recommend you picking up some Lloyd's Barbeque Co. Pulled Pork next time you're at the grocery store.
Go home and fix this recipe for your family, make sure to hide the package don't let them know it's from a package.
Let them think you worked hard prepping and cooking the pork. Once your family starts raving how great your food tastes then pull out the package. Bahaha!
I 'm a Hormel Foods Family Extended Blogger. This post was written as part of my involvement with the group.
Even though I was sent products to facilitate this post all opinions are my own and honest.