If you're looking for a great tasting recipe for lunch or Supper, try these delicious Bacon & Spinach Pies made in mini pastry shells. You can create and freeze them for a later time. Great for portion control or serve them as appetizers at your next party or event.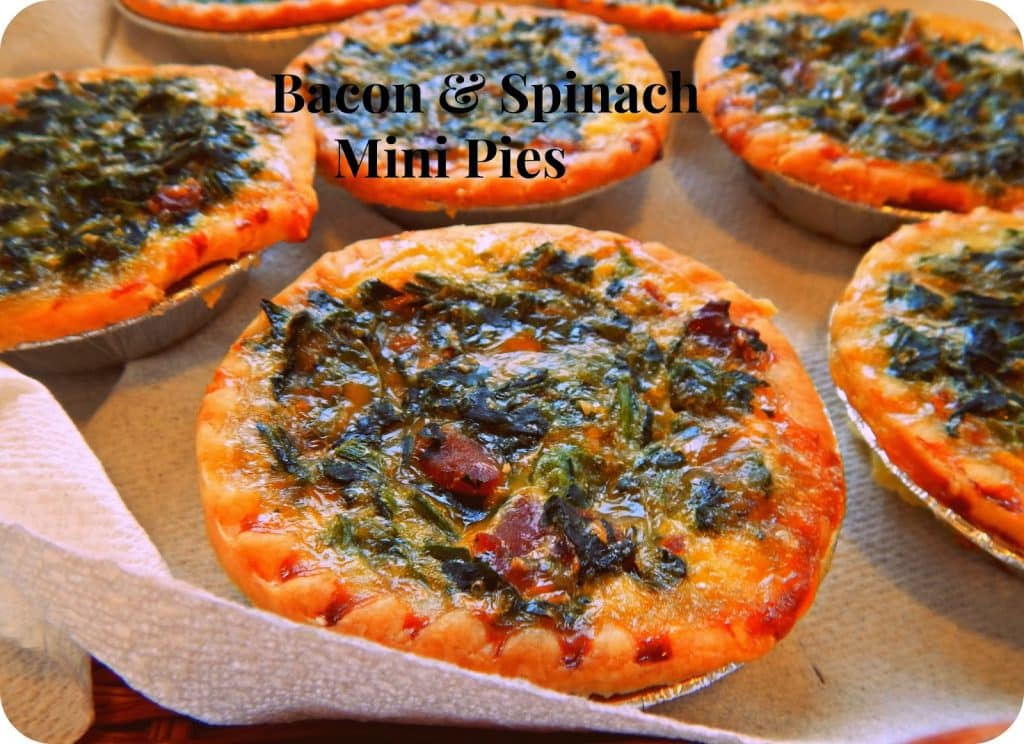 These Bacon & Spinach Mini pies are a favorite family recipe. You can make these little quiches up within minutes. They're simple to make and very filling.
Supplies Needed for Bacon & Spinach Mini Pies
1 pkg. frozen chopped spinach, thaw and squeezed dry
1-1/2 cups of shredded cheddar cheese
2/3 cup cooked crumbled bacon
8 small pastry shells
2 eggs
1/2 cup milk
salt & pepper to taste
How to Make Bacon & Spinach Mini Pies

First, preheat oven to 350 degrees. Next, place pastry shells on a baking sheet side aside. Second, cook the bacon then place bacon on paper towels and crumble the bacon. Third, beat the eggs and milk together in a mixing bowl. Next, stir in spinach, cheese and crumbled bacon pieces. Add salt and pepper to taste and mix all ingredients. Fourth, pour mixture evenly into each pastry shell on baking sheet.
Last, bake the mini pies 25-30 minutes until the centers of the pies are cooked. Carefully remove the spinach pies from the oven and let them cool before serving.
We hope your family loves this recipe as much as my family does. What recipes do you make using bacon?