My Christmas holiday didn't turn out exactly like I planned in my head. There were many bumps along the way. I even spent a few days in bed with the flu. I was lucky though before I started with the aches and chills to attend my son's Christmas performance at his school and spend time with friends.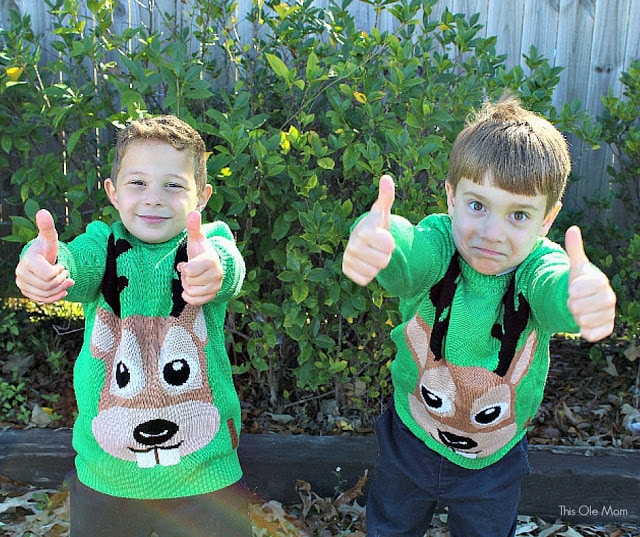 I even learned a few things this holiday, I thought I would share them with all of you. The first thing I learned: don't be afraid to ask another parent to take your child's picture if you forget your camera at home. I mean all they can say is  "No" or think you're a terrible parent  you were excited to get to your child's school leaving your camera behind at home.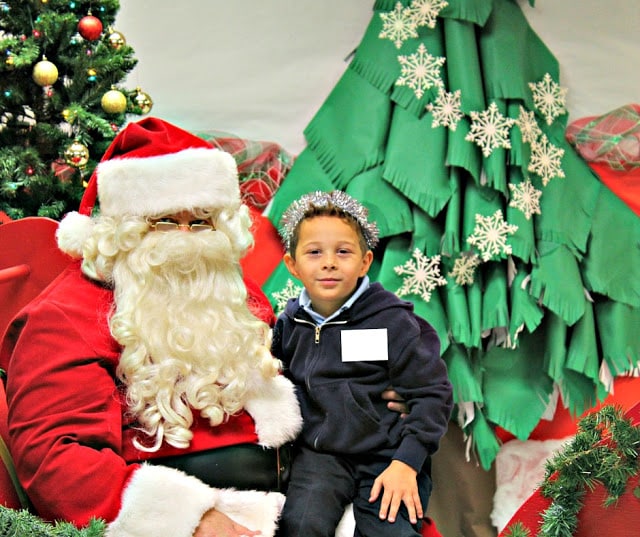 The second thing I learned: kids don't care if it's 80 degrees outside they will put on a sweater and stand outside with a smile fixated on their faces for hours while you snap pictures if you ask nicely bribing them with candy and a trip to the toy store.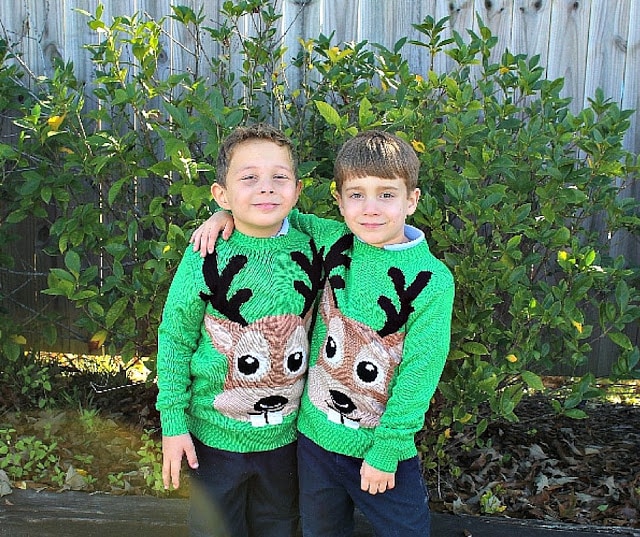 The third thing I learned: always be prepared for anything. Even though I forgot my camera at home, I still managed to grab those cute sweaters you see in the above picture and throw them in the back seat of my car as I was racing out the door late to my son's Christmas program. If I hadn't thought about taking those sweaters along with me, I wouldn't have pictures of my son and his friend wearing those ugly cute sweaters.
The fourth thing I learned: kids love Tipsy Elves sweaters. It might have been 80 degrees outside that didn't stop my son and his friend from wearing their new Bucktooth Buck sweaters. The boys laughed at each others reindeer's with the big chompers and thought I was one cool mom  the sweaters were fun to wear.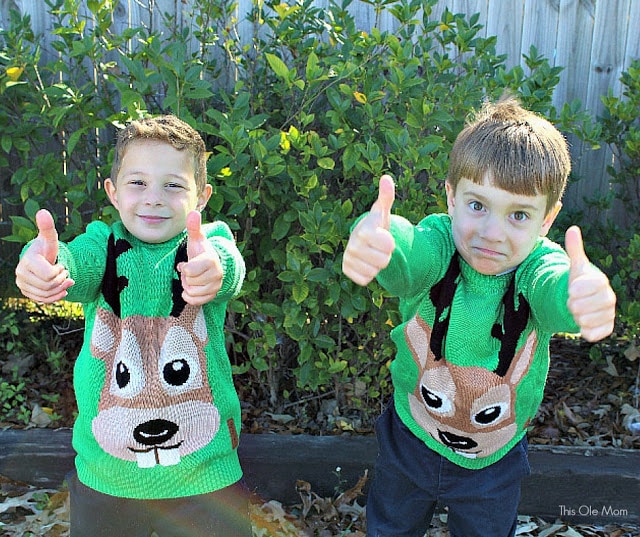 The fifth thing I learned: "Tipsy Elves Ugly Christmas Sweaters " are designed for fun for everyone. If you're looking to create memories with have lots of fun check out the tipsy elves website here , you will find they offer more than ugly Christmas sweaters.
Thank you, Tipsy Elves for providing the sweaters for my son and his friend.
Disclaimer: I received sweaters from the Tipsy Elves in exchange for my honest opinion. All opinions are my own. See my disclosure here.
Happy Holidays,
Kim
I love comments or email me at kseghers@rocketmail.com
Kim Seghers is a Mom of three, creator of This Ole Mom blog, a family friendly site. Kim is passionate about sharing her love for cooking, crafting, traveling, family, and everything lifestyle.