If you love sweets, you will love these 22 Decadent Brownie Recipes. You might have a hard time though picking one favorite brownie recipe.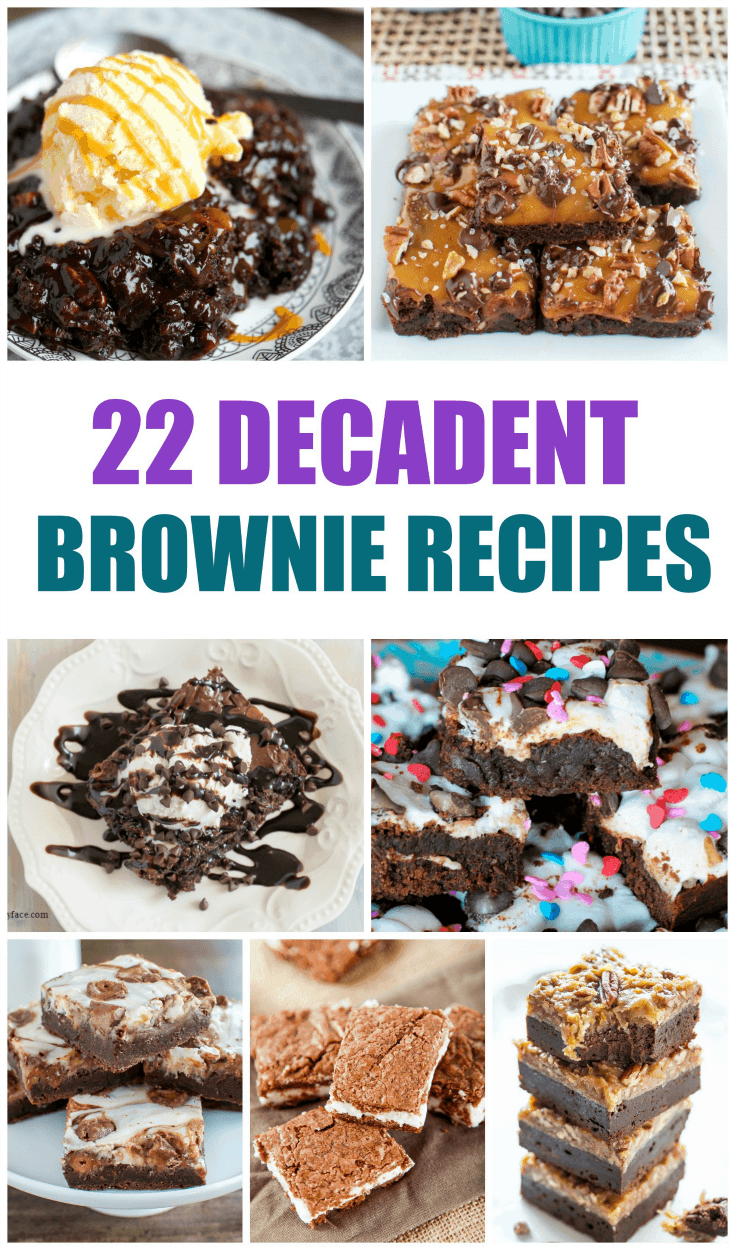 1. Peanut Butter Zucchini Brownies – If you love peanut butter you will love these delicious flourless, vegan, and gluten-free brownies via HUMMUSAPIEN.
2.Milky Way Cheesecake Brownies – If you love chocolate and cheesecake you will love these fudgy brownies. Just looking at the pictures of Stephanie's brownies via Back for Seconds had me drooling!
3.Nutella Brownies (2 ingredients!) – I can't believe this recipe only uses two (2) ingredients. Krystle via Baking Beauty says "the secret to these flourless brownies is the Nutella." Well, if you love Nutella you should try these brownies.
4. Oreo Cream Cheese Brownies – These brownies via Averie Cooks look good! The brownies are loaded with cream cheese, white chocolate, Oreos, and chocolate chips.
5. Raspberry Cheesecake Brownies – These brownies via Flour on My Face look easy to make and tasty to eat!
6. Hot Fudge Turtle Brownies (slow cooker)- Wow! I love the idea of making a dessert in the slower cooker thanks, Mom On time Out for this wonderful recipe.
7. Peanut Butter S'mores Brownies – If you love peanut butter you will love these brownies via Your Cup of Cake.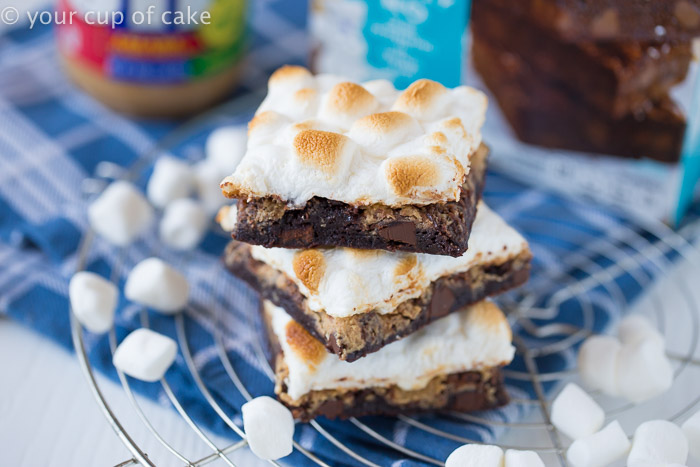 8. Marshmallow Brownies–  Yum! Marshmallow Brownies via Back For Seconds look so fudgy and delicious. I love all the sprinkles she uses.
9. Reese's Peanut Butter Cup Brownies– Oh My! These brownies from Sara via Mom Endeavors looked amazing and made from scratch.
10. Peanut Butter Caramel Brownies (slow cooker)- Cure your chocolate cravings with this delicious treat via Flour On My Face. Can you believe you can cook it in a slow cooker?!
11. Butterfinger Cheesecake Brownie Bites–  via Shared Appetite, these brownie bites would be perfect to take to office parties, school parties, pot luck dinners, etc.
12. Mega Mallow Coconut Brownies– Wow! Just looking at the pictures of this brownie on Deborah's site via Taste and Tell had me wanting to lick the screen. You should check them out!!
13. Peppermint Bark Brownies– If you need a delicious treat but don't have time to bake from scratch you should try these Peppermint Bark Brownies from Cupcake Diaries. The recipe starts with a brownie mix but looks and tastes homemade.
14. Oreo Brownies– If you love the cream filling from Oreo Cookies then this brownie is for you. These Oreo Brownies via Baking Beauty were made from scratch, and the cream filling looks heavenly!
15. Dark Chocolate Brownies– Melissa via Persnickety Plates made these simple and delicious brownies. The brownies are perfect to satisfy those chocolate cravings.
16. German Chocolate Brownies– These brownies from Averie Cooks had my mouth watering. The pecan frosting on top of those gorgeous, fudgy chocolate brownies looks amazing!
17. Mint Chocolate Chip Brownies– Need a healthy alternative try these brownies from Food Done Light. The brownies look delicious, and you would never know they are made using black beans.
18. Almond Joy Brownies– If you love coconut then these brownies from The Recipe Rebel are for you.
19. Pumpkin Chocolate Espresso Brownies– These healthy brownies via The Lemon Bowl are easy to make and healthy.
20. Salted Caramel Turtle Brownies– If you love sweet and salty desserts then you should try theses brownies from Back For Seconds.
21. Decadent Frosted Brownies– These brownies via Dine & Dish look amazing! The brownies look moist, and the chocolate topping looks creamy, a chocolate lover wishes come true. YUM!!!
22. Mocha Cheesecake Brownies– These cheesecake brownies via Sally's Baking Addiction are homemade and the perfect dessert to cure any sweet tooth. I can't wait to try these brownies.
Check out my Gluten Free Chocolate Banana Bars and my "Coconut Oil" Chocolate Bark.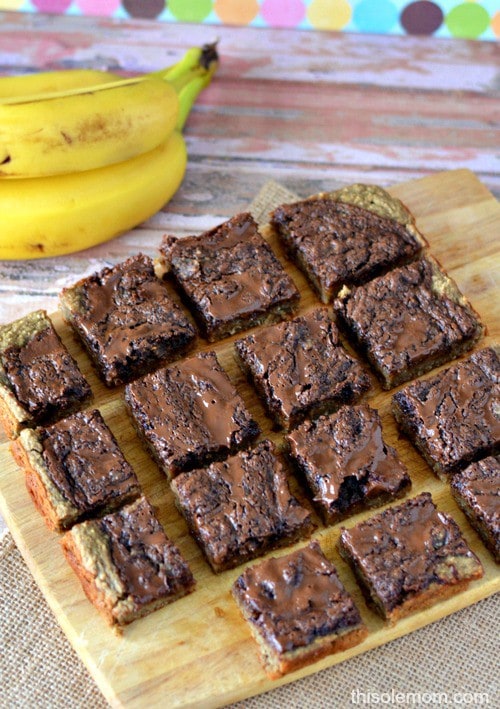 Gluten Free Chocolate Banana Bars
Which brownie recipe would you like to try? I couldn't pick just one they all look amazing! I know you must be drooling after reading about these 22 Decadent Brownie Recipes.
Let's get social! Follow This Ole Mom on Facebook and Pinterest.
This post contains affiliate links and sponsored ads, using these links help support my blog.
Bon Appetit, Kim