My family drove from Louisiana to  Schlitterbahn Galveston Island Waterpark in Texas to have fun! I 'm sharing a few tips I learned while visiting the water park, in hopes to make your family's trip a little easier than mine.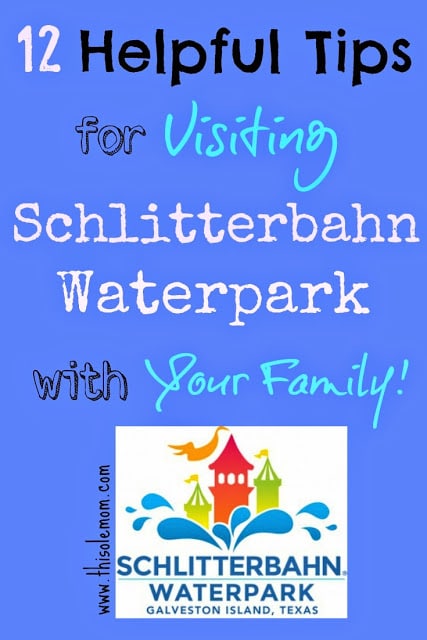 1. Watch the Weather Report – Before going to the park check the local channels for the weather forecast. We left the park early on the day my family visited Schlitterbahn, due to inclement weather and lighting. The waterpark doesn't close when it rains but does close the attractions down until lightning stops.
2. Arrive Early – Schlitterbahn offers free parking and opens at 10 am. If you stay across the street at Moody Gardens Resort use the free shuttle, the hotel offers to travel to and from the waterpark. Arrive early at the park to choose a place to set up camp. I picked out a picnic table near the lockers to leave my cooler and towels. I knew I wouldn't be sitting in one place long.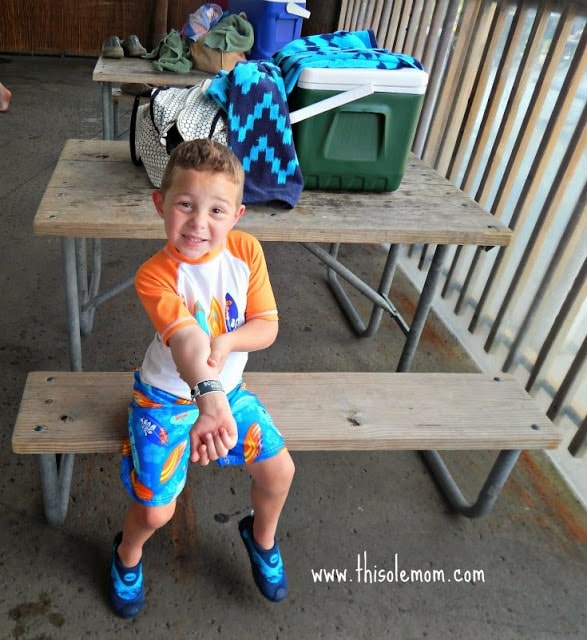 3. Have a Designated Area/Use Identification – Sometimes young children get separated from their parents or group, have your child wear an Identification wristband or Safety Tat with your information written on them. Show your kids what the park employees are wearing, let your children know it's okay to ask a park employee for help if they get lost.
If visiting the waterpark with older children have a designated place and time for them to check in with you. You could also use walkie-talkies or cell phones to communicate with your tweens/teens.
4. Rent a Locker – I suggest renting a locker for your valuables. Lockers cost $10 to rent. When renting a locker, you'll receive a token to return with your locker key at the end of your stay. You can choose to get a $2 deposit back or a souvenir cup. You can wear your key around your wrist or above your elbow. If you decide to leave your locker key with your belongings while you enjoy the waterpark, hide it under something inside your bag.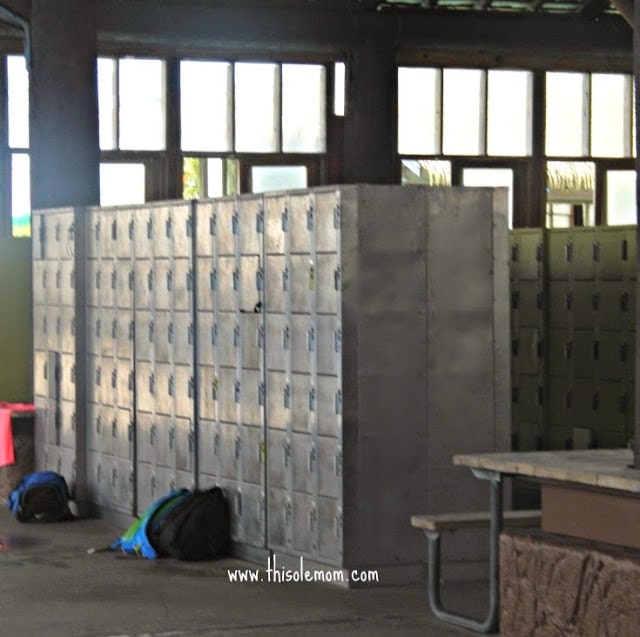 5. Use Life Jackets – If you're visiting Schlitterbahn with young children that can't swim, I suggest them wearing a bathing suit with a flotation device or use the free life jackets that are provided by the water park. You can find stands with Life Jackets to use throughout the park.
6. Bring Sunscreen/Reapply – Make sure to apply sunscreen before arriving at the park and during your visit to the park several times to prevent getting a sunburn.
7. Wear Water Shoes – Please wear water shoes and put them on your children. The water park is huge you will be doing a lot of walking, and the cement is scorching! I heard many people complaining about their feet burning.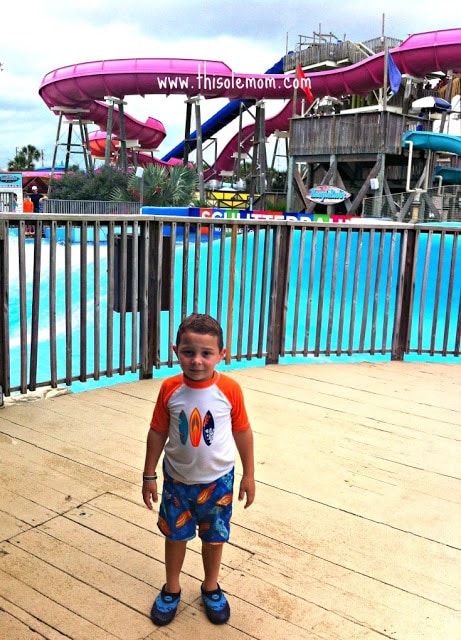 8. Pack Your Lunch – Ice Chests and food are allowed in the park but, not glass or alcohol. I packed water bottles, sandwiches, and snacks. The water park also has concession stands located throughout the park. Please don't forget to take water breaks and give your children plenty of water to drink while enjoying the waterpark. If you have a sweet tooth, Schlitterbahn offers a delicious Birthday Cake Funnel Cake ..hint …hint!
9. Bring Extra Clothes and Towels – Bring extra towels and a change of clothes, place them inside a waterproof bag in your larger bag. I put my family's clothes in our locker with my car keys, valuables, and money. Make sure to bring swim diapers for little ones that aren't potty trained. If you are visiting the park with young children, use the Family Restroom located inside Castle Village to change before you leave the park or to change diapers.
10. Use Wheels – Make it easier on yourself by using an ice chest with wheels or use a folding wagon to carry your belongings to a designated spot. I learned this the hard way!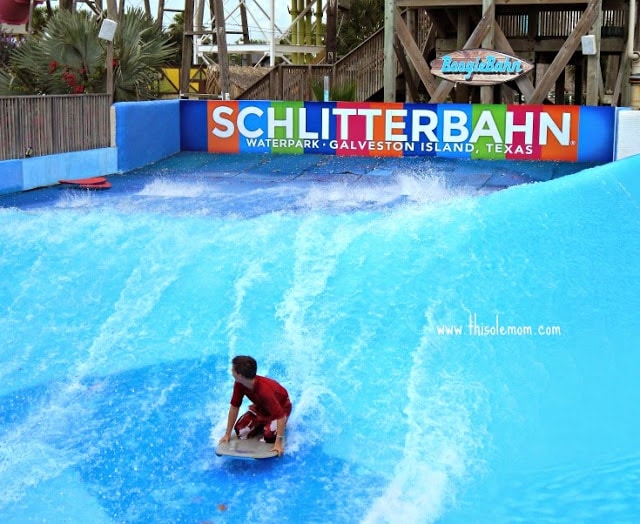 11. Protect Cameras & Phones – The one thing I regret is not having a waterproof camera or waterproof case for my phone and camera. I left my camera and phone in my locker and went to retrieve them a few times to take pictures. Next time I go on an outing outdoors near water with my family, I will be prepared. I missed out on many great photo opportunities.
12. Don't Carry Cash – Instead of carrying cash around or having to go back and forth to your locker to get cash for purchases use Schlitterbahn's Super Splash Cash. Load any amount of money onto their waterproof wristband that can be used to make purchases throughout the park. You can unload the unused balance at the end of the day. The Super Splash Cash is especially a great idea for those visiting the park with older children or if your child is going to the waterpark with a group. Super Splash Cash can be purchased at ticket booths, locker rental locations, and gift shops.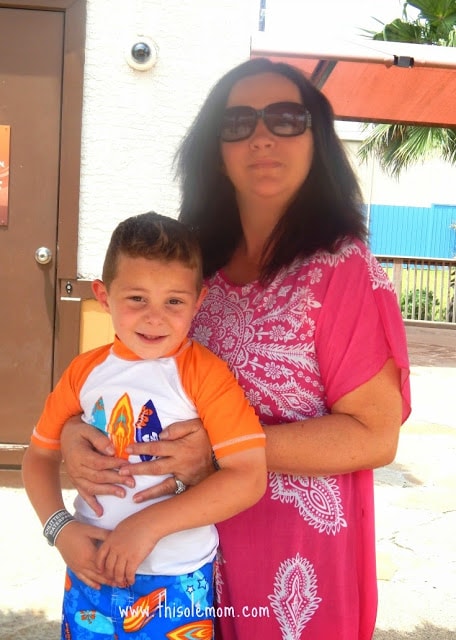 I had fun spending the day with my son at Schlitterbahn. It was nice to see him have an excellent time while splashing around in the water. Have you been to Schlitterbahn Galveston Texas Waterpark?
Check out Schlitterbahn Galveston Island's brand new spaced-themed AquaTube Mat Racers opening this summer 2019. I can't wait to try these slides out with my son they look EPIC!!!
Do you have tips you would like to share? I hope you find my tips helpful. I recommend bringing your family to Schlitterbahn Waterpark in Galveston, Texas for an excellent time!
Learn more about ticket prices, group rates, season passes, and purchase tickets online here .
Disclosure: I was provided free tickets to visit Schlitterbahn Waterpark Galveston Island, Texas with my son from USFamilyGuide.com and Schlitterbahn, for exchange for me sharing my tips. #BahnLove
UPDATED APRIL 2019
Kim Seghers is a Mom of three, creator of This Ole Mom blog, a family friendly site. Kim is passionate about sharing her love for cooking, crafting, traveling, family, and everything lifestyle.